#43
Debrecen - a kßlvinista Rˇma
Amikor azt hallja az ember, hogy Debrecen Magyarorszßg mßsodik legnagyobb vßrosa, valami jelent§sÚgteljes megjelenÚsű, nyŘzsg§, grandiˇzus telepŘlÚst kÚpzel maga elÚ. Debrecent megpillantva mindez be is igazolˇdik: nyŘzsg§, sŘrg§-forgˇ nagyvßros, valami Údes, elringatˇ, kisvßrosi bßjjal. Budapestt§l 200 kilomÚterre, az Alf÷ld szÝvÚbe vezet az ˙tja annak, aki mindezt szemÚlyesen szeretnÚ megtapasztalni.

Debrecen mindig is egyet jelentett a pezsg§ szellemi Úlettel. Az itt 1538-tˇl műk÷d§ Reformßtus KollÚgium nem csupßn egy egyszerű iskola volt, hanem az orszßg szellemi felemelkedÚsÚnek letÚtemÚnyese, a j÷v§nk ÚpÝt§je, a magyar ÚrtelmisÚg b÷lcs§je, dajkßja Ús ugrˇdeszkßja. Talßn nem vÚletlen, hogy egyszerűen csak az "orszßg iskolßjßnak" neveztÚk. A kollÚgiumi Úlet szigor˙ szabßlyok Ús napirend mentÚn műk÷d÷tt, de megÚrte felßldozni a szabadabb lÚtet az itt kapott szellemi Ús erk÷lcsi t÷bbletÚrt. A Reformßtus KollÚgium a 18. szßzadban Últe virßgkorßt, ekkor ragyogott a legt÷bb fÚnyes tehetsÚg e falak k÷z÷tt. Ma az egykori Ë- Ús ┌jkollÚgium egybekapcsolt, szabßlytalan nÚgysz÷g alak˙ ÚpŘletÚben talßljuk a felbecsŘlhetetlen kincseket Ús k÷nyvritkasßgokat §rz§ kollÚgiumi k÷nyvtßrat. Az ˇdon falak el§tt ßllva valahogy ßthatja az embert a helyb§l ßradˇ b÷lcsessÚg. Furcsa ÚrzÚs, hogy valaha itt csiszoltßk t÷kÚletesre K÷lcsey Ferenc, Arany Jßnos vagy Csokonai VitÚz Mihßly elmÚjÚt.
╔vszßzadokkal ezel§tt a jˇmˇd˙ gazdßk, a cÝvisek hazßja volt ez a tßj, akik tradicionßlis ÚrtÚkrendek mentÚn ÚltÚk puritßn ÚletŘket. A 16. szßzadra a vßros teljes lakossßga protestßns vallßs˙, Ýgy Debrecent sokszor emlegetik a "kßlvinista RˇmakÚnt".

Ezek utßn nem meglep§, hogy pont a belvßrosi Kossuth tÚren ßllˇ, csodaszÚp, klasszicista ÚpŘlet, a Debreceni Reformßtus Nagytemplom vßlt a vßros egyik jelkÚpÚvÚ. ╔rdekes, hogy a templom harangjßt 1636-ban ÷nt÷ttÚk, ßm, sajnos ma mÚgsem ezt lßthatjuk a harangtoronyban. 1802-ben leÚgett a templom, a harang lezuhant a toronybˇl, Ús amikor a forrˇ fÚmet az oltßs sorßn vÝzzel locsoltßk, az megrepedt. EgyÚbkÚnt a templom mÚreteire jellemz§, hogy egyszerre t÷bb mint hßromezren tudjßk Řlve hallgatni a prÚdikßciˇt.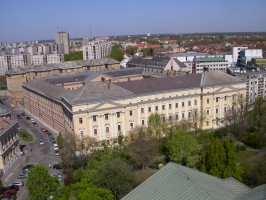 A Piac utcßn mÚg akkor is Úrdemes vÚgigsÚtßlni, ha am˙gy Úppen semmi dolgunk arrafelÚ! Rßbukkanhatunk ugyanis Fazekas Mihßly egykori hßzßra, vagy olyan elbűv÷l§en szÚp szecessziˇs stÝlus˙ ÚpŘletekre, mint az egykori Hajd˙ vßrmegyehßza, mai Megyehßza, melyet igazßn kŘl÷nlegessÚ a homlokzatba ÚpÝtett Zsolnai dÝszelemek Ús szobrok tesznek. De itt talßljuk a Reformßtus Kistemplomot is, melyet itt gyakran csak "csonka templomnak" hÝvnak. Egykor ugyanis a templom tornya magasabb, Ýves zßrßs˙ kupola volt, ßm mivel a termÚszet er§i t÷bbsz÷r is megrongßltßk, egy id§ utßn a helyiek belenyugodtak, Ús egÚsz egyszerűen nem ÚpÝtettÚk vissza a kupolßt.
Csodßljuk meg az ßrkßdokkal tagolt Vßroshßza ÚpŘletÚt, barangoljuk be a fŘvÚszkertet, vagy lßtogassunk ki a Nagyerd§be, ahol mindenki talßl magßnak valˇ szˇrakozßsi lehet§sÚget! Vßlasszuk bßr a tˇ k÷rŘli pikniket, a vidßmpark szolgßltatßsait, vagy a kellemes termßlvizes gyˇgyfŘrd§zÚst, biztosan nem csalˇdunk. ╔rdemes ellßtogatni a mßra mßr 17 hektßrnyi terŘleten, t÷bb mint 1500 ßllatfajtßt bemutatˇ ßllatkertbe is, mely az els§ volt a vidÚki ßllatkertek sorßban.

Ha kicsit hßtrÚbb lÚpŘnk Ús Debrecent madßrtßvlatbˇl vizsgßljuk, rßd÷bbenŘnk, hogy ez a vßros csodßlatos termÚszeti k÷rnyezetben, a Hortobßgy ÷lelÚsÚben ny˙lik el. Ha kedvŘnk van, jßrjuk be az egÚsz k÷rnyÚket, a Hortobßgyi Nemzeti Parkot! Lßtogassunk el az Erd§spusztai FŘvÚszkertbe, a Vekeri-tˇhoz, vagy ŘljŘnk fel a Zsuzsi vonatra!

De augusztusban megÚri visszah˙zˇdni a termÚszetb§l a belvßrosba! Mert Úvente egyszer, nyßr k÷zepÚn Debrecen kivirßgzik. Turistßk ezrei ÷z÷nlik el ilyenkor a belvßrost, hogy k÷zelr§l lßthassßk a szÝnes, karnevßli forgatagot, a lÚlegzetelßllÝtˇ virßgkompozÝciˇkat, virßgkocsikat: augusztus k÷zepe ugyanis az 1910-es Úvekt§l hagyomßnynak szßmÝtˇ Debreceni Virßgkarnevßl id§szaka. Szßmos program, bemutatˇ, tßnc-show, meghÝvott művÚszek Ús koncertek vßrjßk a vßrosba lßtogatˇkat. Ma a virßgkarnevßl mßr nem csupßn egy pßr ˇrßs lßtvßnyossßg, hanem tartalmas programsorozat.
Debrecent elÚg egy pillanat is ÷r÷kre megszeretni. Jˇkai Mˇrra pÚldßul olyan mÚly hatßst gyakorolt ez a hely, hogy szßmos művÚbe belesz§tte Debrecent! ╔s Ín? - jßrt mßr Debrecenben?

Tetszett a cikk? KŘldd el az ismer§s§dnek!
Hozzßszˇlok!