#35
Ayers Rock, az óriási csodakavics
Ha a Viktória-sivatagon átvergődve terepjárónk nem mondta be az unalmast, hirtelen, szinte a semmiből magasodik elénk az Ayers Rock, földünk legnagyobb monolittömbje. S amennyiben a szerencse tartósan mellénk szegődik, mindez a napkelte legelső perceiben történik meg velünk.

Ugyanis amikor a felkelő Nap még álmosan hunyorgó sugarai szertefutnak az égbolton, a félelmetes szikladomb egyszer csak fényleni kezd. Az óriási tömb ébenfeketéből előbb sötét mályvaszínre vált, s kontúrjai egyre élesebbek lesznek. Majd a szikrázó fények hatására megjelenik a vörös és a rózsaszín, s hamarosan már a szivárvány valamennyi árnyalata vadul kergetőzik a köveken. A sziklaüregekből fokozatosan eltűnnek az árnyak, s az Ayers Rock lustán megmártózik a szemet kápráztató sivatagi fényben. A színek mesés kavalkádja napnyugtáig folytatódik, amikor is az Ayers Rock karmazsinvörösből ismét mély bíborba vált, s ébenfeketén tér nyugovóra.
Ausztrália sivatagos északi vidékeit kutatva William Gosse kartográfus 1873-ban kupolaszerű szikladombláncot fedezett fel Alice Springstől délnyugatra, amelynek legkülönösebb csúcsát a kontinens akkori miniszterelnökéről, Sir Henry Ayersről nevezte el. A derék térképész persze nem tudhatta, hogy az őslakók már réges-régen Ulurunak szólítják a vörös monstrumot.

A sziklát karmazsin homokkő, az arkóza építi fel, amely nagy mennyiségű földpátot és különféle vas-oxidokat tartalmaz. E ritka összetétel idézi elő a lenyűgöző színváltozásokat, amelyeket a napközbeni fényviszonyok folyamatos változásai alakítanak. Erős záporok idején például olyan, mintha folyékony ezüst vonná be meredélyeit. Ilyenkor felszín hasadékaiból bő zuhatagok ömlenek alá, melyek időszakos tavakká gyűlnek össze a sivatagi talaj mélyedéseiben. Ha alaposabban megfigyeljük a sziklát, megcsodálhatjuk felszínének formagazdagságát, az eső és a szél munkájának évezredes nyomait. Az erózió vájta barlangokat a bennszülöttek szent helyeknek tartják, s jó néhány hasadékban, repedésben és barázdában állati és emberi alakokat vélnek felfedezni.
Maga az Ayers Rock 367 méter magas, és alapkerülete megközelíti a kilenc kilométert. Ötszázmillió évvel ezelőtt a szikla a kontinens közepét borító tenger alatt rejtőzött, majd a víz visszahúzódásával és a földkéreg gyakori mozgásának következtében felemelkedett, s az oldalára dőlt. De hogyan is mesélnek róla a bennszülöttek?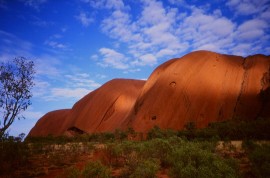 Amikor az istenek a földünket formázták, félig ember, félig állat héroszok járták a világot, ösvényeket és utakat hasítva utódaiknak a képlékeny anyagban. Esővízgödröket tapostak a sárba. Később a sivatagi bennszülöttek élete attól függött, hogy ismerik-e az álomidőbeli csapások mentén lévő vízlelőhelyeket, mely ismereteket aztán dalok és rituális szertartások formájában apáról fiúra hagyományoztak. Uluru ilyen távoli útjelző az álomidő korának ösvényein. Északi lejtője a Pitjantjatjarák, a nyúlkenguru törzsek mitikus otthona lett, míg déli lankáit a Jankuntjatharák, a szőnyegkígyó-emberek lakták. Uluru közelében két nagy csata is zajlott, melyek ma is élnek az őslakók dalaiban és szertartásaiban.
Az álomidőben a mérgeskígyó-emberek vérszomjas törzse érkezett Uluruhoz azzal a szándékkal, hogy elpusztítsák a szőnyegkígyó-embereket. Bulari földanya azonban bátran szembeszállt velük: rájuk lehelte a halál mérgező felhőjét, s végül győzedelmeskedett a támadók felett. Néhány mérgeskígyó-ember alakját ma is felidézik a szikla repedései.

Azonban a nyúlkenguru-embereknek is szembe kellett nézniük egy félelmetes ellenséggel, az ördögdingóval. E fenevadat egy ellenséges törzs dalai keltették életre, s vad gyűlöletet oltottak belé. A nyúlkenguru-emberek káprázatos ugróképességüknek köszönhetően menekültek meg, s lábnyomaikat ma is őrzik Uluru barlangjai.

Kevés turista akad, aki ne lepődne meg azon, hogy milyen erős érzelmi hatást váltanak ki belőle Uluru ősi mítoszai. Egy Davidson nevezetű utazó, aki teveháton járta be Ausztrália vidékeit, útikönyvében a következőképpen számol be élményeiről: "A szikla megfejthetetlen erejétől sebesen verni kezdett a szívem. Soha nem találkoztam még semmivel, ami ilyen kísérteties, ősi gyönyörűséget árasztott volna."

Az Ayers Rock lemezes homokkő rétegei hasonlatosak ahhoz, miképpen a kígyó levedli a bőrét. Az ősi dalokban és mesékben az Uluru testén lévő valamennyi geofizikai alakzatnak jelentése van. Az egymásra simuló rétegződésekben az őslakók a szentként tisztelt Kandju gyíkot látják, aki elveszett bumerángját keresi. Az északi lejtő leghíresebb alakzata a Koponya: itt a vízmosások mintázata emberi fejet formáz.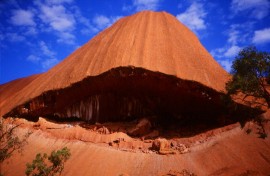 A szikla egyébként természetes vízgyűjtő, s körülötte tucatnyi kisebb-nagyobb tavacska található, melyek éltető vízzel látják el a környéken élő embereket. A sziklák némely üregeit szent helyként tisztelik, közülük többet barlangfestmények díszítenek. Érdekesség, hogy egyes barlangokat csak nők, másokat kizárólag férfiak látogathatnak. Sőt, egyikük sem nézhet a másik barlangjának irányába. Még az 1970-es esztendők végén is megtörtént, hogy halállal fenyegettek meg egy európai nőt, aki a tilalom ellenére felkeresett egy asszonyok számára tabunak számító sziklaüreget. De például a bennszülöttek a szent helyeként tisztelt Mala-barlangba máig nem engedik be a turistákat. Itt történik ugyanis a helybéliek törzsi beavatása. Az őslakók szerint a sziklafolyosók különös jeleit még az álomidőkben karcolták a falakba. A törzs fiait a barlang bejáratánál egy asztalszerű lapos kőre fektetik, s befestik testüket. A mellettük heverő szikla az ősapa alvó alakját mintázza. Mala barlangja az ottaniak szemében a boldogság helye.
Ám sajnos lassan feledésbe merülnek a régi történetek, a dalok és a szertartások. Az Ayers Rock, melyet a fehér bőrű lakosság "halott szívnek" nevez, minden megválaszolatlan kérdésével együtt mindinkább puszta turistalátványossággá szelídül.
Tetszett a cikk? Küldd el az ismerősődnek!
Hozzászólok!