#14
New York, a pezsgõ város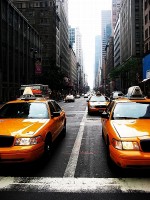 New Yorkban nincs középút. Itt nem ismerik a "hát, nem is tudom"-ot. Itt csak igen és nem létezik, azok is villámgyorsan és határozottan! Új látogatóként egy-két napot még tétovázhatsz, eltévedhetsz, bámészkodhatsz tátott szájjal. De aztán össze kell szedned magad és fel kell venned a tempót! Ha nem, végérvényesen elveszel, és a legrosszabb, ami megtörténhet veled: a 17 ezer étterem és étkezde városában "éhes" maradsz. (Persze képletesen…) Vagy visszavonhatatlanul megkedveled, vagy soha többé nem kérsz belõle.
Ez a zajok, a rohanás, az energia, a különlegességek, a kulturális, a kulináris élmények és a gyorsan élõk városa. Még az idõszámítás is más. Létezik a "New York minute", amit el kell kapni ahhoz, hogy túléld. Itt az egy perc kevesebb, mint 60 másodperc. A város állandó rohanásban van, minden egyes nap, minden egyes órájában és percében millió dolog történik. Ha nem akarsz elszédülni, ez idõ szerint kell élned: minden lehetséges dolgot egyetlen pillanatba sürítve.

A város soha nem alszik. Éjjel egykor, kettõkor betérhetsz egy könyvesboltba, lemezeket válogathatsz, leugorhatsz a sarki zöldségeshez. Hajnalban már megveheted a friss újságot is, hogy megtudd, mennyi mindenrõl maradsz majd le. Követhetetlenül sok a program.

New York mindenkinek ismerõs, hiszen számos sikerfilmnek nyújtott hátteret. Híres a felhõkarcolóiról, különleges madártávlatáról, múzeumairól, modern mûvészetérõl; az üzleti, a divat- s a reklámvilág fellegvára. Elvileg bárhol összefuthatsz egy világsztárral, csak légy résen, ismerd fel és hidd el, hogy õ az! Mert általában Õ az…

New York (hivatalos nevén City of New York) az Amerikai Egyesült Államok legnépesebb városa. Több félszigeten és szigeten, illetve részben a szárazföldön fekszik az Atlanti-óceán nyugati partján. 5 városrészbõl áll - Manhattan, Queens, Bronx, Brooklyn és Staten Island. Csak Manhattanben annyi ember lakik, mint Budapesten. És Manhattan csak egy pici része New Yorknak. A City a legszerényebb becslések szerint is több mint nyolcmillió ember otthona.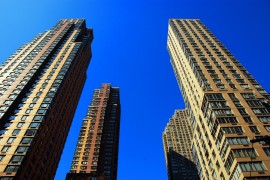 A legtöbb látnivaló kétség kívül Manhattanben van. A legolcsóbb módja a városnézésnek az, ha csak sétálunk az utcákon. Mielõtt bárki tömegközlekedésre adja a fejét jobb, ha vesz egy várostérképet. A legtöbb buszjárat egyszerû útvonalon közlekedik: vagy észak-déli, vagy kelet-nyugati irányban. A buszok a gyakori dugók miatt lassúak, városnézésre viszont tökéletesek. Az autóvezetés New Yorkban életveszélyes. A motorosok száguldoznak a zsúfolt utcákon, ingyenes parkolás nincs, szabad parkolóhely is csak elvétve, a tilosban várakozókat viszont pillanatok alatt elszállítják. Itt mindenki metrózik. A metró non-stop, Manhattan valamennyi nevezetességét érinti, olcsó és gyorsabb a taxinál.
Ha valaki New Yorkban jár, feltétlenül meg kell néznie az alábbiakat:

1. Természettudományi Múzeum. Több mint 36 millió kiállítási tárgyával a világ legnagyobb történeti múzeuma. Lenyûgözõ dinoszaurusz-csontvázak, egy 94 láb hosszú kék bálna, az 563 karátos Star of India zafir és a 4,5 milliárd éves Ahnighito meteorit csodálható meg.

2. Bronx Zoo. Az ország legnagyobb városi állatkertje 4000 állatnak ad otthont.

3. Central Park. Ide menekül a beton, és üveg dzsungel elõl mindenki, aki egy kis feltöltõdésre vágyik. New York leghíresebb közparkját Frederick Law Olmsted és Calvert Vaux alakította ki 1856-ban. A Central Park egyébként pont olyan, mint amilyennek a filmekben látszik: takaros, tiszta, sok kis tematikus hellyel, kerttel, ligetekkel, sok kocogóval és rengeteg mókussal. Valószínû itt született Woody Allen szállóigévé vált kijelentése: ,,Vessetek a mókusok elé!,".

4. Modern Mûvészetek Múzeuma. A négyszintes épület egy gyönyörû kert köré épült. A XX. század valamennyi neves mûvésze helyet kapott: Van Gogh, Picasso, Matisse, Warhol.

5. Guggenheim Múzeum. Kívülrõl egy nagy spirálra hasonlít. (Frank Lloyd Wright tervezte) A kortárs mûvészek alkotásai kaptak itt helyet, köztük több mint húsz Picasso-kép.

6. Szabadság-szobor. A város jelképe, a Lady Liberty hatalmas népszerûségnek örvend, az 1986-os felújítása óta. Mivel mindenki látni akarja, elõfordul hogy órákat kell várni míg megkezdhetjük a 10 emeletnyi liftezést, és 12 emeletnyi lépcsõzést a koronába.

7. Rockefeller Center. A 19 épületet magában foglaló komplexum a város közepén áll. Itt találjuk decemberben a város gigantikus fenyõfáját is.

8. Empire State Building. Ma már ugyan nem a földkerekség legmagasabb épülete, de 1931-es megnyitása óta a világ egyik legkedveltebb felhõkarcolója. Az amerikaiak nagy becsben tartják King Kongot: õ tette ugyanis világhíressé az Empire-t, emlékezetes mászásával.

9. New York egyik leglátványosabb éjszakai helyszíne, a Times Square, a színház rajongók feltétlenül látogassanak el ide.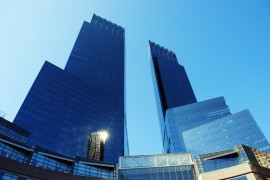 10. Wall-streetnek sajátos hangulata van. Nagyon helyi. A felhõkarcolók dzsungele. A nap szinte sosem süt be. Az utcákon õrülten rohanó öltönyösök, kosztümösök cikáznak, nem is tudni ki honnan jön és hova megy, egy biztos: rohan. A magas épületek sûrûjébõl egyszer csak elénk tárul a feltûnõen üres placc, a World Trade Center Ikertornyainak helye. Rémisztõ látvány. Némán áll mindenki és mered a kerítésen túlra. A helyén, a Ground Zerónál emlékhely található. A másik dolog, ami Manhattanben szeptember 11-re emlékeztet: a tûzoltóautók, rajtuk a meghalt bajtársak nevei. Az ikertornyokat ért terrortámadás az ott lakók többségének életét gyökeresen megváltoztatta. Elgondolkodtak az élet valódi értemén és a múlandóságon… Egy érdekes adat: 20 %-al több gyermek született kilenc hónappal a tragédia után, mint általában…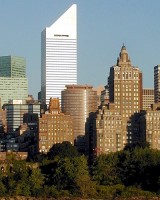 New York persze organikusan fejlõdõ város volt mindig is, idõvel pedig egy meglehetõsen sokarcú metropolisz lett belõle. Sokszínûsége a leglátványosabban a Greenwich Village városrésznél érzékelhetõ. Nem csak olyan érzése van az embernek, hogy egy másik városba lépett hirtelen, hanem mintha egy földrészt utazott volna, egészen egy angol kisvárosig. Ez az egyetlen városrész, ahol az utcákban is fasorok vannak. New York többi részén maximum a városi parkokban találkozni növényzettel. Village arról is híres, hogy itt játszódik a Jóbarátok, és itt él a sexi szingli, Carrie Bradshaw is.
Szólni kell a Bronx-ról, ahol a Yankees éjszakáról éjszakára erõsíti a New York-iak önbecsülését, s ahol az utcán járni életveszélyes. A huszas évektõl kezdve Manhattan északi része folyamatosan pusztult le, átváltozott az olcsó, lepukkant ingatlanok mekkájává és teljes egészében fekete negyeddé vált.

New Yorkban valahogy mindenkinek nagyobb a szabadságérzete. Itt életstílus a szabadelvûség, és a különcség. Szabadabban öltözködnek, gondolkodnak, viselkednek, összetéveszthetetlen angolt beszélnek, hadarnak, rohannak és lazán Nagy Almának becézik városukat. Közben pedig lépten nyomon belevesznek a New York minute-be.

Tetszett a cikk? Küldd el az ismerõsõdnek!
Hozzászólok!