#35
Las Vegas - a világ legnagyobb vidámparkja
"Mindent azért csinálunk, hogy kiszedjük belőled a pénzed!" –mondta Sam Rothstein (Robert De Niro) Scorsese Kaszinójában. Lecsupaszítva ez Las Vegas! A fény, a csillogás, a pénz, a szerencsejátékok földje. Egy nagy vidámpark, felnőtteknek.

Bár a látvány és a szórakoztatás fővárosa az egész családnak kínál – a föld felett – programot, a lényeg a föld alatti szerencsejáték barlangokban van. Ez az egyik valódi ok, amiért évente mintegy 30 millióan zarándokolnak el ide. Las Vegas egy óriási építészeti kavalkád, eszméletlen megalomániával fűszerezve. A hatalmas utakat akkora szabadidő-autók és pickupok uralják, amelyek mellett a Hummerek is eltörpülnek. Ráadásul a sivatagban épült városban megnézhetjük az Eiffel-tornyot, gondolázhatunk a Canale Grande-n, vagy ha úgy tartja kedvünk átsétálhatunk New Yorkba, vagy Egyiptomba. Itt minden lehetséges, és semmi sem elképzelhetetlen.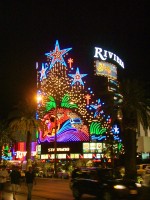 Las Vegas az Egyesült Államok Nevada államában található. A várost, 1905-ben alapították, eredetileg a vasutat építő munkások szálláshelyének. Nevadában 1909-ig legális volt a szerencsejáték. Mikor az állam a megingott anyagi helyzete miatt 1931-ben újra legalizálta a szerencsejátékokat, életre kelt Las Vegas. Az első kaszinó Vegasban a Flamingó hotel volt, amelyet Benjamin \"Bugsy\" Siegel alapított. Ide, az Isten háta mögötti vidékre akarta felépíteni az állandóan pezsgő mesevárosát. A \"Flúgos\" becenevű Síegel Salvatore Lucianóval és Meyer Lanskyval a 20. század egyik leghatékonyabb bűnszövetkezetét alapította meg. Ők finanszírozták a Flamingó akkor 5 millió dollárba kerülő építkezését. Azonban a komplexum hatalmas veszteséget hozott, amit a maffia nem bocsáthatott meg Bugsynak, így egyik reggel holtan találtak Beverly Hills-i otthonában… Szegény Bugsy, nem érhette meg, hogy a nevadai sivatag közepére épült Las Vegas a világ egyik legnépszerűbb szórakoztatóipari komplexumává váljon. Ma már több mint 1 millió embernek, valamint a világ húsz legnagyobb szállodája közül tizenhatnak ez a csillogó város ad otthont.
Ha a Vegasba látogató halandó felocsúdik a megérkezés és a látvány első sokkjából kezdődhet az álmélkodás. Csodálatos szökőkutak, patyolattisztaság mindenütt. Hatalmas mozgólépcsők és mozgójárdák vezetik be – akaratlanul is a delikvenseket a szerencsejátékok szentélyeibe. A 24 órán keresztül nyitva tartó játéktermekbe a belépés ingyenes (látszólag).

Mivel napközben elviselhetetlen a meleg, csak a szórakoztató centrumokban találni felüdülést. Talán éppen ezért, valamint a látvány miatt is érdemesebb a naplemente utáni időszakban, amikor a város elképesztő fényárba burkolózik, felfedező útra indulni. És nem kell sétálni a szállodák között, mert egy hatalmas plexicsőben közlekedik a helyi \"csőmetró\", a látvány pedig, egyedülálló!

Vegas szállodái, és a velük egybeépült kaszinók a város hangulatának megfelelően monumentális jelenségek. A kifinomult európai ízlésűeknek sokszor sokk megélni a rengeteg extravagáns és giccses megoldást, mint például a percenként több száz liter olvasztott csokoládét csorgató szökőkutat, vagy a világ legnagyobb mesterséges vulkánját.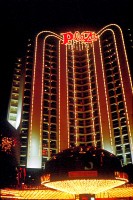 Minden szálloda más, mindegyik egy-egy európai várost vagy országot szimbolizál. Az egyik leghíresebb, az 1998-ban megnyílt Bellagio, amely közel három és fél ezer szobával, ötszáz lakosztállyal és 18 étteremmel, valamint saját bevásárló utcával büszkélkedhet. Ennél is nagyobb, a több mint ötezer szobás MGM Grand, amelyben a maga 16 ezer négyzetméteres alapterületével Vegas legnagyobb kaszinója található. A szálloda mögött 33 hektárnyi területen helyezkedik el a MGM Grand Adventure szórakoztató park.
A legújabb kaszinók a város déli oldalán találhatók. 1993-ban nyílt meg a 36 emelet magas, bronzból és üvegből készült piramis, a Luxor. A szfinxekkel őrzött, pálmafákkal szegélyezett bejárat, Tutankhamon sírjának pontos másolata, valamint az egész épület Egyiptom múltját igyekszik felidézni. A piramis csúcsából egy olyan magas fénycsóva tör felfelé, melyet a repülőgépek mérföldekről is észrevehetnek.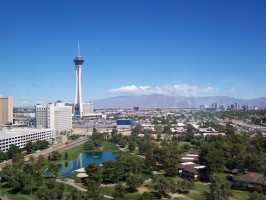 A Luxor építészének, Veldon Simpsonnak köszönhető a középkori várat idéző, felvonóhíddal, lőrésekkel ellátott, tornyokból álló épület, az Excalibur. Alagsorában, a korabeli piactéri előadásokhoz hasonló show-kal igyekeznek még több látogatót becsalogatni. A kaszinóváros eddigi legnagyobb nyereményét egy 25 esztendős Los Angeles-i mérnök vihette haza az Excalibur kaszinójából, miután megnyerte a jackpotot. Az összeg egészen pontosan 39 731 982 dollár volt. Ezért már megérte kiruccani Vegasba…
A mini New Yorkot a 300 láb hosszú Brooklyn hídon keresztül lehet megközelíteni. Az épület előtt ott áll a Szabadság szobor kicsinyített mása is. A mini Manhattanben 12 felhőkarcolót találunk, míg az épület belsejében az alkonyati fényben pompázó Central Parkot tekinthetik meg az idelátogatók. És mindezek felett 65 mérföld/órás sebességgel száguld a Manhattan Express hullámvasút.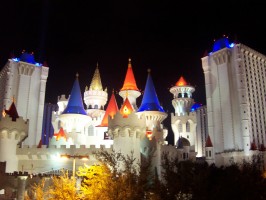 Néhány háztömbbel távolabb a Caesar's Palace-ban félmeztelen római katonák és bájos Kleopátrák üdvözlik a látogatókat a Colosseum tövében. Mögötte, a fényekben úszó Mirage előtt esténként hatalmas tömeg gyűlik össze, hogy megnézze a 15 percenként vizet és tüzet okádó vulkánt. A közelben található a főként gyerekes családok számára érdekes Circus, mely élő cirkuszi műsorral igyekszik ámultba ejteni a kicsiket. Mert ugye nem lehet elég korán kezdeni…. ! Van itt a Grand Canyon mintájára épült vízipark, valamint a Star Trek rajongóknak egy kalandpark, ahol magukra ölthetik kedvenc Star Trek figurájuk jelmezét és máris indulhat a virtuális túra az Enterprise fedélzetén.
A város luxushoteljei irdatlan tempóban épülnek, hiszen egy-egy hotel élettartama 5-10 év. Ezt követően lebontják, és sokkal pazarabb komplexum épül a helyére. A szállodák nemcsak extravagáns külsejükkel csábítnak, hanem megpróbálják a világ legnagyobb show műsorait is színpadra állítani. Elton John, Celine Dion, David Copperfield rendszeresen fellépnek a városban.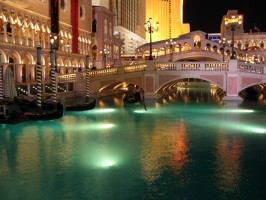 Las Vegas a szerelmesek végállomása is. Évente több mint 100.000 pár köttetik itt össze. A házasulandóknak nem kell helyi lakosnak lenniük és vértesztet sem kell csináltatniuk. Mindössze be kell tölteniük a 18. életévüket és a Clark County Marriage License irodában engedélyt kell vásárolniuk. Aztán irány egy kápolna, amiből szinte minden utcasarkon, kapualjban találni egyet. A legelképzelhetetlenebb ötletnek sincs akadálya, lehet a ceremónia légballon kosarában, vagy ejtőernyőzés közben, vagy egy száguldó kocsiban, de maga Elvis is lehet az ifjú ara tanúja. Számos sztár is Vegas-ban mondta ki az igent, mint Bruce Willis és Demi, Elvis és Priscilla Presley, Britney Spears és Jason Alexander.
Az amerikai felnőtteknek Las Vegas testesíti meg azt, amit gyerekeiknek Disneyland: játék és szórakozás minden szinten, egy hatalmas játszótér, ahol (szinte) mindent szabad, amit máshol nem.
Tetszett a cikk? Küldd el az ismerősődnek!
Hozzászólok!