#21
Umberto Eco: A rózsa neve
Négy aggastyánalakot láttam tehát, s a kellékeikbõl ráismertem Péterre és Pálra, Jeremiásra és Ézsaiásra: õk is mintha valamely tánclépésbe facsarodnának, hosszú, csontos szétterpesztett ujjú kezük szárnyként emelkedik fölfelé, és szárnyként lobog a szakálluk és a hajuk is valami prófétai szélben, meg a hosszú-hosszú lábuk mozgatta hosszú-hosszú köntösük sok redõje, ahogy hullámokba és csigavonalakba korbácsolódik, s a négy aggastyán farkasszemet nézett az oroszlánokkal, de ugyanazon matériából faragtatott, mint õk. (...) És hogy lenyûgözött pillantásom továbbsiklott szent tagok és pokoli izmok eme talányos polifóniájáról, a kapu mellett és a mélyülõ boltívek alatt a gyámfalon újabb jelenések tárultak szemem elé, hátborzongató látnivalók, melyek csakis parabolisztikus és allegorikus erejük, avagy az általuk közvetített erkölcsi tanítás folytán kerülhettek ide: parázna asszonyállatot láttam, meztelen volt és foszlott húsú, láttam egy fösvényt, ahogy hullamerevvé zsibbadtan fekszik baldachinos nyoszolyáján, tehetetlen prédájaként immár egy falkányi démonnak, s hörgõ szájából az egyik démon a lelkét cibálja ki épp. A sátán bestiáriumának valamennyi fenevadja ott gyülekezett konzisztóriumra, díszes társaság, és ott õrködött és önnön kudarcával dicsõségét zengte annak a királyiszéknek: faunok, kétnemû lények, hatujjú szörnyek, szirének, kentaurok, gorgók, hárpiák, lidércek, dracontopodusok, minotauruszok, hiúzok, párducok, kimérák, orrlikaikból tüzet lövellõ kutyafejûek, agyaras behemótok, sokfarkú gyíkok, szõrös kígyók, szalamandrák, viperák, rákok, siklók, fogas hátú kétfejûek, hiénák, vidrák, varjak, krokodilusok…
Vilmos feladata az egymással szembenálló pápai és ferences küldöttségek találkozójának megszervezése. Az eseményeket megzavarja Otrantoi Adelmus, a fiatal kora ellenére máris nagy miniatúrafestõként számon tartott szerzetes érthetetlen halála.

Az élet csodája mulandó, a fölidézett múlt megannyi név, mely eltûnt dolgokat jelöl. Nevek csupán, mint a rózsáé, melyet Melki Adso hexametere idéz a regény zárásában. A középkori kéziratmaradványok, melyeket Adso a regény végén összegyûjt, egy hajdani könyvtár jelei. Ennyit markolhatunk a világból.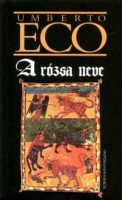 A huszadik század irodalmának egyik alapproblémája, hogy az író elvesztette a hiteles megszólalás lehetõségét, mert a nyelv kiüresedett és alkalmatlanná vált a világ hiteles ábrázolására, így megszûnt annak lehetõsége, hogy a szerzõk a mindentudó elbeszélõ szerepében tetszelegjenek. Minthogy Isten után a szerzõ is meghalt, kapóra jön a detektívregény ürügye a halálnak mint olyannak a kinyomozására. Különösképpen a középkorban, amikor Isten még élt, és a sátán bestiáriumának valamennyi fenevadja ott gyülekezett konzisztóriumra. A földi embereknek pedig meg vannak számlálva napjaik a fellegekbe burkolózó hegy tetején álló itáliai bencés apátságban.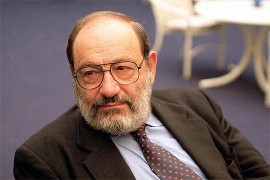 A középkori krimi, mely titokzatos halálesetek körül bonyolódik, a detektívregények hagyományait követve izgalmas rejtvényfejtésre hívja az olvasót. Baskerville-i Vilmos, akinek neve Doyle jeles mûvét idézi (The hund of the Baskervillers), ferencesrendi szerzetesként játssza a mesterdetektívet, észjárása túlmutat Sherlock Holmes követhetetlen logikáján. Titkára, Melki Adso az elbeszélõk kényelmetlen helyzetébe kerül. Umberto Eco bámulatos mindentudását olyan elbeszélõre keni, aki többszörösen megkavarja a forrásait: egy bizonyos Valkler apát tizenhetedik századi kéziratának tizenkilencedik századi fordításra hivatkozik, amely viszont Melki Adso tizennegyedik századi kéziratán alapszik. A történet elején úgy tûnik, a gyilkosságok János Apokalipszisének iránymutatását követik. Kiismerhetetlenül gazdag világ tárul elénk misztikus elemekkel, titokzatos összeesküvésekkel, teológiai-politikai vitákkal fûszerezve. Mindez a könyvtár labirintusa köré rendezõdik, melyet Jorge, az öreg és vak könyvtáros õriz (harsányan integet Jorge Luis Borges argentin író, a labirintus metaforájának mestere). Hova vezet ez?
A bezárt szoba rejtélyének megfejtése az olvasó kötelessége is, amennyiben a világ értelmezésében egyébként is érdekelt. Az se baj, ha nem vájták ki a fülét a finom kis filozófiai vagy irodalmi utalásokra, illetve arra a halom latin idézetre vagy vallási moralizálásra, melyek értése említésre méltó intellektuális öröm. A rózsa neve ugyanis a világból mindenki számára kimarkolt egy kis szeletet, úgy rendezte el a szavak jelentéseit, hogy az élet csodájának mulandósága lekerüljön az elit kultúra polcáról a közönséghez is.

Tetszett a cikk? Küldd el az ismerõsõdnek!
Hozzászólok!