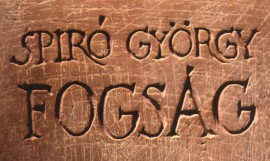 Az apját látta maga elõtt: kínlódott, küszködött egész életében, de a tisztességét soha nem adta fel. Talán ilyennek teremtette az Úr. Urit azonban nem olyannak teremtette, mint az apja, ezt Uri erõsen érezte, kéjelgõ természetet adományozott neki, henyélõt és önzõt, hedonistát minden téren, de az apja önkínzó tisztessége mégis példa lett a számára. Elsírta magát Uri, akit az apja a szeme romlása miatt magára hagyott, de mégis az apja volt, és a legjobbat akarta neki, amikor a delegációba benyomta.
Sokan sírtak a Körzetben akkoriban, megvolt rá minden okuk, de Uri nem azért sírt. Mindössze az történik a Körzetben, amit az ember az ember ellen elkövetni képes. De hogy az apja tisztessége beléje szivárgott, a húsába, a csontjaiba és még most sem hagyja el, amikor pedig a Körzetben zsidó zsidóra fenekedik, zsidó zsidót csal meg, lop meg, vádol be hamisan, és az összes zsidót a gonosszá alázott nyomorult görög aljanép tartja fogságban, az nem attól van, amire képes az ember.
Túl van ez a gyönyörûség az emberi történéseken.
Talán ezt nem is az Örökkévaló akarta, Õ be sem tervezte talán, aki minden gonoszságot érvényesülni hagy, magasabb, ismeretlen célt követvén, de hogy Õ is gyönyörködik ebben a csodás kapcsolatban apa és fia között, ha errefelé tekint épp, az bizonyos. Ezt el fogja mesélni az apjának, valamilyen szavakat találni fog erre a leírhatatlan csodára, szerény és tartózkodó szavakat, de az apja mégis meg fogja érteni. És akkor együtt fognak sírni, átölelve egymást, az Atya és Fia.
Ehhez persze túl kell élni a Vészt, ahogyan a Körzetben elnevezték a Rajtaütés, Roham, Üldözés, Áldozat, Holokauszt, Dúlás és más hasonló pontatlan és buta elnevezések után; túl kell élni a Vészt, és haza kell menni Rómába.
A Jeruzsálembe vezetõ út során Uri megismeri az embereket, kezd megedzõdni és diplomatikusan viselkedik. Mégis gyanakvással veszik körül, mert híre ment, hogy Agrippától származó üzenetet visz a zsidóknak.

Napjaink keresztény idõben számláltatnak, mely idõre Uri, a vaksi fiú egy nagy és összefoglaló pillantást vetett. Spiró fiktív hõse a golgotai események környékén született, abban a legforróbb hõfokú idõben, amikor a keresztény idõszámítás és többé-kevésbé történelmünk is kialakult. A császárkor elején vagyunk, Tiberiusz, Caligula, Nero, Vespasianus szerepelnek a regényben, akik hatással vannak Gaius Theodorus római polgár, zsidó nevén Uri életére és sorsára.

Uri sebezhetõ, ügyetlen, sodródó értelmiségi figura, a fizikai munkára teljesen alkalmatlan, így idejét mûvelõdésre fordítja. Több nyelven beszél, ismeri a görög és római szerzõket, sok papirusztekercset lapozgat. Egy véletlen folytán bekerül a római zsidó közösség évi adományát a jeruzsálemi templomba vivõ küldöttségbe. Ezen a ponton hõsünknek alkalma nyílik megérteni a történelmi folyamatok mûködését, a vallás és politika összefonódásának okait, a hatalom pszichológiáját, egyszóval a túlélés mûvészetét. Bejárja a kor minden mélységét és magasságát: van, hogy nyomorult földönfutó, de Jeruzsálemben Poncius Pilátussal vacsorázik, Alexandriában a filozófus Philo veszi szárnyai alá, még a Messiással is egy cellába zárják egy éjszakára. A jeles történelmi idõ hõsünk számára sors, össze-vissza hánykolódik benne, de róla tanúságtételt nem tud tenni. A szerzõ megkíméli a vállalkozó szellemû olvasót egy újabb megváltástörténettõl, õt Uri képviselete tartja fogva.
Uri pillantásán keresztül az olvasó arra jut, hogy az élet különbözõ fogságok hálózata. A világot hatalmi érdekek korlátozzák, ha úgy tetszik, globalizálják, ám hiábavaló az egyesülési törekvés, mert a sokféleséget megszüntetni nem, csak elpusztítani lehet. A leghatékonyabban tömeggyilkossággal. Kérdés, hogy a vallás, mely elvben megszabadít a történelem rettenetétõl, keresztényi megnyilvánulásában képes-e menedéket adni vagy az is csak egy biztonságos börtön.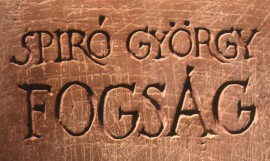 A Fogság széles spektrumú korrajz, és a posztmodernkedõk legnagyobb örömére nem követi a történelmi regények hagyományát. Belemegy a legapróbb részletek bemutatásába úgy, mint csatornabûz, ételek összetétele, pénznemek, építõanyagok és társai. Nyelvezete meglepõen mai, cselekményideje is gyanús, mert valahol a zsidó, római és krisztusi idõk idõtlenségében körvonalazódik. Történelemfölfogása ironikus, a különbözõ emberi cselekedetek egyenértékûek, nincs hátsó szerzõi érték, melynek révén rangsorolni lehetne õket. Szóval nekünk szól.
Tetszett a cikk? Küldd el az ismerõsõdnek!
Hozzászólok!