#8
Jane Austen: Büszkeség és balítélet
Elizabeth este feltárta szívét Jane elõtt. Miss Bennet általában nem hajlott a gyanakvásra, de most egy szavát sem hitte el.
- Ne tréfálj velem, Lizzy! Hiszen ez lehetetlen! Hogy eljegyezted magad Mr. Darcyval! Nem, nem, engem ugyan nem szedsz rá. Tudom én, hogy ez képtelenség.
- Mondhatom, ez jól kezdõdik! Tebenned bíztam egyedül, ha te nem hiszed el, mit szóljanak a többiek? De hidd el nekem, hogy komolyan beszélek; amit mondok, az színigazság. Még most is szeret, és én a menyasszonya vagyok.
Jane kételkedve nézett húgára.
- Ó, Lizzy, ez lehetetlen! Hiszen tudom, mennyire nem szíveled õt.
- Nagyon rosszul tudod, a múltat el kell felejtenünk. Azelõtt talán nem szerettem õt annyira, mint most. De ilyen esetekben legnagyobb baj a jó emlékezõtehetség. Én is most említem utoljára a múltat.
Miss Bennet sehogy sem tudott magához térni az álmélkodásból. Elizabeth újra biztosította nõvérét, most már komolyabb hangon, hogy minden szava igaz.
- Jóságos isten! Hát csakugyan így van? Igen, most már el kell hinnem! - kiáltotta Jane. - Drága, édes Lizzym, én igazán... szívbõl gratulálok neked... de bizonyos vagy benne?... Bocsáss meg a kérdésért... Egészen bizonyos vagy abban, hogy boldog leszel vele?
- Efelõl nyugodtan alhatsz. Mi már megállapodtunk abban, hogy mi leszünk a legboldogabb házaspár a világon. De mondd, örülsz neki, Jane? Meg leszel elégedve ilyen sógorral?
- Hogyne, nagyon is. Nagyobb örömet nem is szerezhettél volna Bingleynek meg nekem. Mi beszéltünk is a dologról, de azt hittük, hogy lehetetlen. És mondd, igazán eléggé szereted? Ó, Lizzy, tégy akármit, csak ne menj férjhez szerelem nélkül. Bizonyos vagy benne, hogy, úgy szereted Darcyt, ahogy kell?
- Persze. Sõt ha mindent elmondok, azt fogod mondani, hogy jobban szeretem õt, mint kellene.
- Hogy érted ezt?
- Hát bizony be kell vallanom neked, hogy még Bingleynél is jobban szeretem. Most aztán félek, hogy megharagszol rám.
- Drága húgocskám, beszélj végre komolyan! Ilyen fontos dolgot nem szabad tréfával elütni. Mondj el mindent, amit tudnom kell, mégpedig rögtön. Mondd meg, mióta vagy szerelmes belé?
- Olyan lassan jött rám ez a szerelem, hogy azt sem tudom, mikor kezdõdött. De talán onnan lehet keltezni, amikor megpillantottam az õ gyönyörû pemberleyi birtokát.
Mr. Darcy idõt és pénzt nem kímélve igyekszik megmenteni a balra lépõ Bennet-lány, Lydia becsületét. Jane ekkor döbben rá, hogy mindvégig rosszul ítélte meg ezt a büszke férfit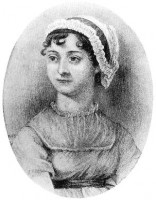 Az Elsõ benyomások címet viselte a regény eredetileg, majd még tíz évig érlelõdött, mire a tizenkilencedik század elején megjelent a végleges verzió a maga hangzatos címével. A balítélet szép szó, híven tükrözi a tizennyolcadik századi angol vidéki élet úri társaságának rózsaszín szalagos szerelmi szövevényeit. Zárt és belterjes világ ez, ahol a földbirtokosok, középnemesek és katonatisztek egy jól meghatározott ívben kerülik a munkát, alkalmat adva így a mamáknak, valamint azok divat szerint öltözködõ lányaiknak romantikus ábrándjaik szövögetésére. Mert ekkortájt az úri mihasznaság kedvezett az érzelmek virágzásának. Olyan kor ez is, ahol minden a pénz körül forog, megszerzéséhez viszont hozományvadászok és nõcsábászok komoly ármánykodásai szükségeltetnek, míg a kevésbé intelligens eladó lányok a sznob és hamis mesterkedések áldozatai.
A folyton és bután fecsegõ Bennet-mamának igazán nincs könnyû dolga, amikor öt lányát a szegényes hozomány ellenére férjhez akarja adni. Mélyen bevésõdött lelkébe az évszázados igazság, mely szerint az egyedülálló vagyonos férfi az õ lányának (az egyiknek fõleg!) jog szerinti tulajdona. Ha az illetõ netán a szomszédságban él, mint például Mr. Bingely, akkor az említett tulajdonlás tényének csak a technikai része kérdéses. Ám a Bennet-lányok, fõleg a legidõsebb és szép Jane, nem érik be a férjszerzés hagyományos módjával. Húgával, Lizzie-vel egyetemben árnyaltabban gondolkodnak és emóciókat visznek a párválasztás gazdasági tevékenységébe.

A nemek csatájának megannyi bugyrán kell átvergõdnie az olvasónak, hogy eljusson a jól megérdemelt happy endhez. Mr. Darcy dölyfössége igencsak megtévesztõ nemcsak Jane, de Elizabeth szemében is. Az ember nem is vár kevesebbet, mint a jellemhibák nagyszabású leküzdését, ami Jane esetében éppen elõnyös, mivel Mr. Bingely váratlanul Londonba utazik, magára hagyva hõsnõnket érzelmeinek kétségbeesett viharzásában.

Mára már kevésbé divatos, tökéletesen kidolgozott karakterek jellemzik Jane Austen munkásságát, s a Büszkeség és balítélet alakjai is ezt példázzák. A korszak tipikus jellemei az érzelmek igazságának nevében a tisztességet helyezik elõtérbe az illúziókkal és tévhitekkel szemben. A regénynek napjainkban figyelemre méltó sikere van, nyilván a jól sikerült filmadaptációnak köszönhetõen. Más oka nem lehet, hiszen a mû üzenete napjaink párválasztási szokásaival nem összeegyeztethetõ, ám a filmvászon high tech ködfátyola ezt elfeledteti.

Tetszett a cikk? Küldd el az ismerõsõdnek!
Hozzászólok!