#38
Harper Lee: Ne bántsátok a feketerigót!
Maycomb régi, méghozzá unalmas, régi város volt, amikor megismertem. Esős időben az utcák vörös pocsolyákká változtak, a járdákat fű nőtte be, a bíróság rogyadozó épülete a főtéren éktelenkedett. A nyári hőséget akkoriban valahogyan nagyobbnak éreztem: egy fekete kutya szenvedett a hőségtől a forró nyári napon; talyigák elé fogott csontos öszvérek farkcsapkodással kergették a legyeket az örökzöld tölgyek tikkasztó árnyékában. A férfiak keménygallérja reggel kilenc órára már csuromvíz volt. A hölgyek fürdőt vettek ebéd előtt, három óráig tartó déli sziesztájuk után is, és estére mégis olyanok voltak, mint a puha teasütemény, bevonva izzadsággal és vastag púderréteggel.
Az emberek akkoriban lassan mozogtak. Tempós léptekkel mászkáltak a főtéren, ráérősen mentek be az üzletekbe, és jöttek ki onnan; bőven volt idejük mindenre. A nap huszonnégy órából állt, de hosszabbnak hatott. Senki nem sietett, mert nem kellett sietnie; nem akadt semmi vásárolnivaló, de pénz sem a vásárlásra, és Maycomb megye határain túl nem volt, amit érdemes lett volna megnézni. Valami bizonytalan derűlátás vett erőt az emberek jó részén: a megye népe meg volt győződve róla, hogy a félelmen kívül semmitől sem kell félnie.
Házunk a város előkelő negyedének főutcáján állott - itt laktunk, Atticus, Jem és én meg Calpurnia, a szakácsné. Jem és én elégedettek voltunk apánkkal: játszott, felolvasott, és udvarias tárgyilagossággal bánt velünk.
Calpurnia egészen más volt. Csupa szöglet és csupa csont; rövidlátó és bandzsa; tenyere széles, mint az ágydeszka, de legalább kétszerte keményebb. Mindig kikergetett a konyhából, és azt kérdezte, miért nem viselkedem olyan jól, mint Jem, pedig tudta, hogy ő idősebb. Mindig olyankor hívott haza, amikor még nem akartam hazamenni. Hősi küzdelmet vívtam vele, de mindig hiába, főként, mert Atticus mindig az ő pártjára állt. Akkor került hozzánk, mikor Jem született, és amióta az eszemet tudtam, zsarnokoskodott fölöttem.
Amikor anyám meghalt, kétéves voltam, és hiányát így soha nem éreztem. Graham-lány volt, és Montgomeryből származott. Atticus akkor ismerkedett meg vele, mikor első ízben választották képviselővé. Ekkor már középkorú férfi volt, és anyám tizenöt évvel fiatalabb. Jem házasságuk első évében született; én négy évvel később, és két év múlva anyámat egy hirtelen szívroham megölte. Azt mondták, hogy családjában ez gyakran előfordult. Nekem nem hiányzott, de, gondolom, Jemnek igen. Világosan emlékezett rá, és játék közben néha nagyokat sóhajtott, magamra hagyott, s egymagában játszott a kocsiszín mögött. Ilyenkor okosabbnak tartottam, ha nem zavarom.
A kislány bátyjával és Dillel színdarabokat játszik a Drakulából és hasonló rémtörténetekből, s azon mesterkednek, hogyan tudnák megpillantani a város mumusának tartott zárkózott férfit, Boo Radleyt. Eleinte az erőszakos, fehér farmer lányának állítólagos megerőszakolása alig szivárog be a gyerekek tudatába, aztán Scout és Jem apját jelölik ki a fiatal fekete Tom Robinson védelmére.

Vannak olyan konfliktusok, melyek minden korban és minden kultúrában az emberi sors megélt történetei, mert nem lehet embernek lenni ezen történetek megélése nélkül. Ezekről mindig jó beszélni, írni, olvasni. Ilyen a Ne bántsátok a feketerigót! című regény is, mely egy egyszerű tanítást van hivatva kinyilvánítani Amerika történelmének egyik legsötétebb időszakából, a feketék elleni atrocitások korából, jelesül, hogy az ártatlanoknak ne ártsunk.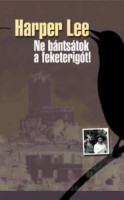 A mű a harmincas évek Amerikájában, egy alabamai álmos kisvárosban zajló eseményeket mutatja be, egy család történetének három évét felölelve. Az apa, Atticus Finch ötvenéves ügyvéd, aki felesége halála után egyedül neveli tízéves fiát, Jemet és hatéves kislányát, Scoutot. Mindent megtesz, hogy gyermekeit tisztességre, becsületre, őszinteségre és toleranciára nevelje, de ez nem könnyű feladat a városka fajgyűlölő hangulatában. Különösen nehéz helyzetbe kerül, amikor elvállalja egy nemi erőszakkal vádolt, de ártatlan fekete férfi védelmét. Üdítően hat, hogy a történetet mindvégig a kislány, Scout szemével láttatja az írónő.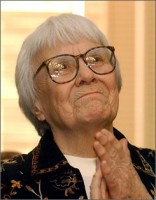 Az olvasmányos, jól megírt mű cselekménye két független szálon fut, a gyerekek ártatlan, játékos világa és az apa realitásokkal, társadalmi konfliktusokkal terhelt képe tárul elénk. A történet lassan kezdődik, aztán hirtelen egy feszült bírósági tárgyalás közepén találjuk magunkat, ahol felszínre kerülnek a világválság sújtotta Amerika kényes kérdései : osztály, fajgyűlölet, igazság, felnőtté válás. Az érdekes végjátékban a szálak összeérnek, és a cselekmény kerekké válik, kihangsúlyozva a már említett tanítást.
Az apa sziklaszilárd erkölcsisége banális téma az irodalomban, mégis jogos a mű elsöprő sikere és rendkívüli olvasottsága, mert a tükör, melyet felénk tart, mindig aktuális. Szükség van az ilyen művekre, fontos szerepet töltenek be gyermekeink nevelésében, de a felnőttkor megkésett útkereséseikor, a mindig bekövetkező erkölcsi útvesztőkben is jó szolgálatot tehetnek. Amennyiben vannak még ilyen irányultságú felnőtt olvasók. Atticus arra hívja föl a figyelmet, hogy egyetlen dolog van, amelyben nem dönthet többségi vélemény, és az az egyéni lelkiismeret.

Tetszett a cikk? Küldd el az ismerősődnek!
Hozzászólok!