#18
Grease – Hajra kenhetõ, fülbe való
35 évvel ezelõtt startolt a leghíresebb rock'n'roll-musical a Broadwayen, melynek Oscar-jelölt filmváltozata 2008-ban ünnepli majd három évtizedes jubileumát. Túlkoros színészek, suli-buli, szerelem és idõtállóságot szavatoló nagyszerû muzsikák jellemzik a Kék lagúnát is jegyzõ Randal Kleiser moziját.

John Travolta már a '77-es Szombat esti lázban is fõszerepet játszott és eszméletlenül táncolt, berobbanása olyannyira sikeres volt, hogy az Akadémia Oscar-díjra terjesztette a színészt. Mégis az egy évvel késõbb készült Grease a legnépszerûbb zenés film a sztár filmográfiájában.

A forgatás során 24 esztendõs Travolta által életre keltett Danny Zuko a 29 éves Olivia Newton-John játszotta Sandyvel éli meg élete legszebb nyári románcát (az iskolások legidõsebbjét az akkor 34 esztendõs Stockard Channing alakította). A románcot, melyrõl mindketten tudják: a vakációval együtt örökre véget ér, hiszen a tengerpart után – földrajzi szempontból – egészen más sulik felé veszik majd az irányt. A sors azonban közbeszól! A lány a fiú intézményében kezdi meg az új tanévet, ám a rózsaszín világ folytatása helyett komoly felfordulást hoz a programváltozás: Dannynek döntenie kell, hogy leszámol a banda fejeként és a lányok bálványaként kialakított imázsával, s felvállalja valódi, érzékeny és romantikus személyiségét, vagy inkább az igaziról lemondva folytatja jól kiépített karrierjét a suli falain kívül és belül egyaránt.
Miközben olyan gyors és lírai dalok váltják egymást, mint a You're The One That I Want, a Summer Nights, a Greased Lightning, a Hopelessly Devoted To You vagy a Sandy, lehetõséget biztosítva a két fõszereplõ, valamint egy sor mellékszereplõ énektudásának megcsillogtatására, addig a történet is igyekszik a létezõ összes kamasz-kalandot felvonultatni: féltékenység és csalódás, rivalizálás és összefogás, autó- és csapatépítés, balhék és randik, tanulás és munka…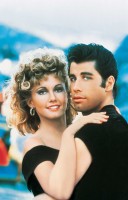 Bár az eredeti musical jóval több dalt tartalmazott, mint amennyi végül a filmbe került (kimaradt például az It's Raining On Prom Night és a Freddy My Love), azért a forgatás elõtt az összes szerzeményt rögzítették a szereplõkkel, akikhez – egy dal erejéig – a kor sármos férfiénekese, Frankie Avalon is csatlakozott. Bár kétségtelen, a férfiak számára sokkal inkább Olivia Newton-John szûk bõrnacija marad emlékezetes – a ruhadarab annyira testhez álló volt, hogy szó szerint a mûvésznõre varrták.
Igaz, az énekes-színésznõ azóta inkább lemezeket készít, filmbeli partnere pedig a filmstúdiók felé vette az irányt, Travolta nemrég ismét a zenés filmben tûnt fel: az ezredforduló után a Hairspray újrájában fakadt dalra, melyben a hangját igen, õt magát viszont nem könnyû felismerni!

Pomádé (Grease) – 1978, 110 perc

Fõszereplõk: John Travolta, Olivia Newton-John, Stockard Channing, Jeff Conaway, Lorenzo Lamas, Frankie Avalon

Zene: Jim Jacobs és Warren Casey

Rendezõ: Randal Kleiser
Tetszett a cikk? Küldd el az ismerõsõdnek!
Hozzászólok!