#28
Ford Fairlane kalandjai – Eszem+áll
Ez itt nem a Kicsi kocsi újra száguld totálisan amerikanizált gépjármûre komponált változata, de van-e bárki is a VHS-korszakból, aki ne lenne képben a rock'n'roll-detektívet illetõen?!

Miközben a gépjármûjérõl nevét kölcsönzõ szabadszájú zenészkopóról szóló alkotás eszméletlen népszerûségnek és rajongótábornak örvendezett, s örvendezik hazánkban, addig a világ többi pontján inkább a ciki kategóriát erõsítette. Az USÁ-ban például a legrosszabb filmeknek és filmeseknek kijáró, 1991-es Arany Málnán hat kategóriában jelölték, melybõl hármat díjra is váltott…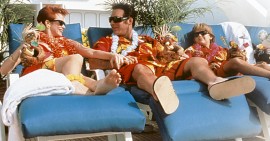 A felemás megítélés oka kétségtelenül a magyar szinkronban keresendõ, mely elsõ alkalommal biztosított helyet egy énekesnek. (Késõbb sem lett ebbõl különösebb divat, igaz, a kilencvenes években Szikora Robi a Wayne világa mindkét részében szinkronizált, majd az ezredforduló környékén tartották nagy ötletnek, hogy a Pa-dö-dõbõl, a Back II Blackbõl vagy a Groovehouse-ból hívjanak énekeseket szinkronra. Ganxsta Zolee szinkronos-filmes karrierje egészen más történet.) Bár Nagy Feró hangja annak idején kellõen szokatlanul csengett Andrew Dice Clay "szájából", hamar meg lehetett szokni. Az USA filmrajongói Eddie Murphy Beverly Hills-i zsarujával kipipálták a káromkodós szuperzsarukat a nyolcvanas években, így aztán hiába próbálkozott valami hasonlóval a szintén komikusként indult Andrew Dice Clay 1990-ben…
Pedig a zenebiznisz akkor is és azóta is érdekes terület, mely simán elbír egy zenészekre specializálódott, természetesen kellõen laza, ám ha kell, maximálisan kemény, a nõi egyenjogúságot nem csak el nem ismerõ, de egyáltalán nem ismerõ magándetektívet. Különösen akkor, amikor sorban állnak az ügyfelek!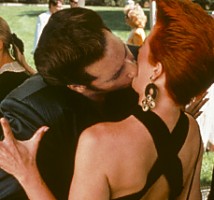 Ford Fairlane alig oldotta meg egy zaklatási ügyét, egy feltételezhetõ gyilkosság, egy apa- és egy lánykeresés is a nyakába szakad. Emberünk azonban nem esik kétségbe, és a maga módján veszi kézbe a dolgokat, így aztán blöffölhet, énekelhet, fricskákat és pofonokat egyaránt oszthat és leoszthat, kiszólhat és beszólhat kedvére. A sikamlós mondások azóta szállóigékként élik tovább életüket, a film dalai közül pedig több ma is mûködik (Billy Idol: Cradle Of Love, Andrew Dice Clay: I Ain't Got You, Mötley Crüe: Rock 'N Roll Junkie).
A hullámzó minõségû produkcióiról ismert Renny Harlin rendezõ (Die Hard 2., Felpörgetve, Cliffhanger - A függõ játszma, A testvériség, Háborgó mélység, Rémálom az Elm utcában 4., Az álmok ura) e mozijában nemcsak Andrew Dice Clay az egyetlen komikus, ott van a Saturday Night Live-ot megjárt Gilbert Gottfried is, ráadásul a zenebiznisz hatásos "díszleteirõl" sem szabad megfeledkezni: rapoldalról Tone Loc, a heavy metal-vonalból a Mötley Crüe énekese, Vince Neil, illetve a Prince-szel is dolgozó Sheila E egyaránt szerepelnek e szélesvásznúban. A filmbolondok pedig kétségtelenül örömmel azonosítják majd be Jim Carrey exnejét, a Ford Fairlane titkárnõjének szerepében tetszelgõ Lauren Hollyt, kiderül, hogy Priscilla Presley nemcsak a róla elnevezett parfümök reklámjaiban fordult meg a kamera elõtt, egyértelmûsíthetjük, hogy az Egy rém rendes család fejének, Ed O'Neillnek nem áll jól a bajusz, s a Freddy Kruegert megformáló Robert Englund maszk nélkül is felismerhetõ!
A film mind a mai napig kultikus alkotás hazánkban, hatása a számos idézeten kívül sok helyen tetten érhetõ: Császár Elõd az egyik kitalált betétdal nyomán készítette el a Butitájm címû dalt, míg egy másik formáció a Ford Fairlane kalandjaiban elhangzó, képzeletbeli zenekarnév után döntött a Disco Express elnevezés mellett.

Ford Fairlane kalandjai (The Adventures of Ford Fairlane) - 1990, 104 perc

Fõszereplõk: Andrew Dice Clay, Lauren Holly, Priscilla Presley, Wayne Newton, Robert Englund, Ed O'Neill, Vince Neil, Sheila E., Tone Loc

Zene: Boris Blank

Rendezõ: Renny Harlin
Tetszett a cikk? Küldd el az ismerõsõdnek!
Hozzászólok!