#13
A bßrßnyok hallgatnak - Krimiben tudˇs
Hißba is Řltette ßt filmvßszonra Thomas Harris regÚnysorozatßnak els§ k÷tetÚt a Szemt§l szembent is jegyz§ Michael Mann, az ÷t Úvvel kÚs§bb gy÷ngyvßszonra kerŘl§ ˙jabb dr. Hannibal Lecter-§rŘlet tarolt igazßn – moziban Ús az Oscar-dÝjkiosztˇn egyarßnt.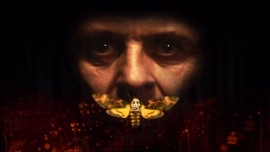 Mondjuk ki bßtran: a fene sem Úrti, hogy kerŘlhetett egy pszicho-thriller k÷zelÚbe a korßbban csak idÚtlensÚgeket (A keresztanya, Valami vadsßg) dirigßlˇ Jonathan Demme, ßm A bßrßnyok hallgatnak cÝmet visel§ vÚgeredmÚnyt lßtva inkßbb az a furcsa, hogy egy ilyen kvalitßs˙ direktor, hogy vßllalhatott el korßbban limonßdÚkat. Persze, valahogy el kell kezdeni… Ahogy egy filmforgatßst is szßmos egyeztetÚs, szerepl§vßlogatßs el§z meg. Mßrpedig ebben az esetben egy sor sztßr neve felmerŘlt a kÚt f§szerepl§ kapcsßn. Az FBI-˙jonc kapcsßn Meg Ryan Ús Michelle Pfeiffer is szˇba kerŘlt, mÝg az igazi kihÝvßst jelent§ intelligens pszichopata esetÚben Jack Nicholson, Robert DeNiro, Patrick Stewart Ús Robert Duvall szintÚn rajta voltak a listßn. VÚgŘl Jodie Foster Ús Anthony Hopkins kerŘltek egymßssal szemben a produkciˇ legemlÚkezetesebb cella-jelenetei sorßn.
A Sz÷vetsÚgi Nyomozˇiroda egy sorozatgyilkost kerget – nem sok sikerrel. Jack Crawford, a d÷rzs÷lt vezet§ biztos benne, hogy a korßbban bekasztlizott dr. Hannibal Lecter tudna segÝteni az Řgy felg÷ngy÷lÝtÚsÚben, ßm a fokozott ˇvintÚzkedÚsek k÷zepette fogva tartott elÝtÚltnek vajmi kevÚs oka akad az egyŘttműk÷dÚsre. Hacsak nem egy olyan ifj˙, vonzˇ kollÚgan§t vet be, mint amilyen Clarice Starling. Igaz, az ˙jonc nemcsak lßtvßnyra figyelemremÚltˇ, de szaktudßs tekintetÚben is igen jˇk a mutatˇi. A kÚt f§szerepl§ els§ talßlkozßsa azonban kis hÝjßn kudarcba fullad, ßm a film egyik f§ mozgatˇrugˇja, a vÚgtelenŘl művelt, komoly emberismerettel rendelkez§, a normßlistˇl azonban mßs Úrtelemben is eltÚr§ elÝtÚlt, s a kemÚnynek tűn§, mÚgsem sebezhetetlen FBI-lßny kŘl÷n÷s kapcsolata meglep§ brav˙rral veszi az akadßlyokat. ┌gy tűnik, Lecter belemegy a jßtÚkba, ha Clarice ŇSZINT╔N vßlaszol a kÚrdÚseire. Bßr a szabßly szerint az el÷ljßrˇ nemhogy nem k÷teles vßlaszolni az elÝtÚlt ßltal neki szegezett kÚrdÚsekre, de kifejezetten ajßnlott az ilyen prˇbßlkozßsokat figyelmen kÝvŘl hagyni, ez˙ttal a "cÚl szentesÝti az eszk÷zt" mottˇ Ýrja felŘl e t÷rvÚnyt. A kitßrulkozßs nehÚzsÚgei mellett az id§ sŘrgetÚse is komoly nyomßst gyakorol a sz÷vetsÚgiek kÚpvisel§jÚre, rßadßsul sosem lehet tudni, hogy Hannibal szßmßra meddig izgalmas, vagy legalßbb Úrdekes e kŘl÷n÷s jßtszma…
A kÚtsÚgtelenŘl er§s t÷rtÚnet vÚres Ús kegyetlen jelenetekkel egyarßnt bÝr, mÚgsem pusztßn ezek tÚnye repÝtette a filmet komoly korhatßr-besorolßs alß. A vßratlan fordulatokban Ús a mesteri idegtÚpÚsben egyarßnt gazdag produkciˇ szinte biztos, hogy kevesebb rajongˇval rendelkezne, ha nem a lovaggß Řt÷tt Anthony Hopkins brillÝrozna a kulcsfigura szerepÚben (a művÚsz magyar hangja, Sinkˇ Lßszlˇ szintÚn kivßlˇ!), aki mellett bßrmilyen ÷sszeszedetten is jßtszott Foster kisasszony, csak mßsodhegedűse a filmnek. Ez persze cseppet sem jelenti azt, hogy ne aggˇdnßnk Úrte (is)!
A bßrßnyok hallgatnak (The Silence Of The Lambs) – 1991, 118 perc

F§szerepl§k: Anthony Hopkins, Jodie Foster, Scott Glenn, Ted Levine

Zene: Howard Shore

Rendez§: Jonathan Demme

Oscar-dÝj: Legjobb fÚrfi f§szerepl§ (Anthony Hopkins), Legjobb n§i f§szerepl§ (Jodie Foster), Legjobb rendez§ (Jonathan Demme), Legjobb film (Edward Saxon, Kenneth Utt, Ronald M. Bozman), Legjobb forgatˇk÷nyv (Ted Tally)

Tetszett a cikk? KŘldd el az ismer§s§dnek!
Hozzßszˇlok!