#40
Newgrange, a megalitikus ÷r÷ksÚg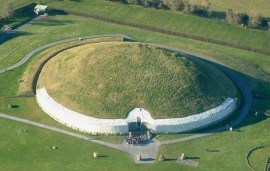 Az Ýrorszßgi Meath megyÚben talßlhatˇ, a Boyne folyˇ kanyarulata ßltal k÷zrezßrt 780 hektßros v÷lgyterŘletben, 12 kilomÚterre Drogheda vßrosßtˇl hozzßvet§legesen negyven neolitikus, k÷rŘlbelŘl ÷tezer Úves kamrasÝr talßlhatˇ. A Br˙ na Bˇinne-i komplexum 1993 ˇta szerepel az UNESCO vilßg÷r÷ksÚgi listßjßn. Br˙ na Bˇinne jelentÚse "Boyne menti szßllßshely", angol neve: Bend of the Boyne, azaz "Boyne-kanyarulat" nemzetk÷zi viszonylatban is rendkÝvŘl jelent§s rÚgÚszeti egyŘttes. A kamrasÝrok k÷zŘl a legismertebb a folyosˇs Newgrange.
Newgrange ie. 3300 Ús 2900 k÷z÷tt, feltehet§en ie. 3100 k÷rŘl ÚpŘlt. Az ovßlishoz hasonlÝtˇ alapjßnak ßtmÚr§je 79 Ús 85 mÚter k÷z÷tt vßltozik, a kamrasÝr feletti halom magassßga 11 mÚter. A halmot kilencvenhÚt szegÚlyk§ veszi k÷rbe, nagy rÚszŘk dÝszÝtett, a legÚkesebbik, hßrmas spirßlmintßkkal borÝtott k§ a sÝr bejßratßt dÝszÝti.

Eurˇpa legszebb folyosˇsÝrjßnak a bejßrata dÚlkelet felÚ nÚz, pontosan a dÚli napfordulˇ napkeltÚjÚnek irßnyßba. A bejßrattˇl 19 mÚteres folyosˇ hßrom kis kamrßban vÚgz§dik, amelyekben hatalmas k§medencÚk foglalnak helyet.

A romos Ús kifosztott sÝrt 1699-ben fedezte fel Edward Lhuyd (1660-1708), walesi rÚgisÚgb˙vßr. ═gy Ýrt rˇla: "Amikor el§sz÷r belÚptŘnk, k˙szva kellett beljebb nyomakodnunk. De ahogy tovßbbhaladtunk, kÚtoldalt a pillÚrek egyre magasabbak lettek. Aztßn elÚrtŘk a barlangŘreget, amely mßr 20 lßb magas volt. A folyosˇ mindkÚt felÚn talßltunk egy-egy cellßt, szemben pedig egy harmadik h˙zˇdott."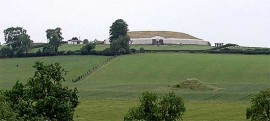 A f§ kamra szabßlytalan kereszt alaprajz˙ Ús 6 mÚter magassßgba Ývel§ boltozatos tet§vel rendelkezik. A mintegy 100 tet§k÷vet olyan pontosan illesztettÚk egymßs f÷lÚ, hogy mindenfÚle k÷t§anyag nÚlkŘl is masszÝvan tartanak. Az 5000 Úv alatt mind÷ssze kÚt k§ t÷rt ÷ssze. Ez t÷kÚletes kivitelezÚsr§l Ús fantasztikus szakemberekr§l tan˙skodik. A kamra k÷zepÚn egy hatalmas k§tßlat, benne Úgett emberi maradvßnyokat talßltak. Ebb§l arra k÷vetkeztettek a tudˇsok, hogy a newgrange-i sÝrnak kiemelked§ jelent§sÚgűnek kellett lennie a t÷bbi temetkezÚsi helyhez viszonyÝtva.
A sÝrkamrßig vezet§ hossz˙ folyosˇt Ús a kamrßt is a megalitikus korra jellemz§, geometrikus motÝvumokkal dÝszÝtett k÷vek dÝszÝtik. Sok tet§lap Ús gyßmk§ is faragott. KÝvŘl is rengeteg jßrdaszegÚlyk÷vet munkßltak meg, ezeknek gyakran a bels§, lßthatatlan fele a faragott.

A legsűrűbben hasznßlt motÝvumok a rombusz, a cikcakk Ús a k÷r.

A korai archeolˇgusok, mint a dublini Trinity College 18. szßzadi jeles professzora, Thomas Molyneux, csupßn "barbßr faragvßnyoknak" titulßlta. Mostansßg jelent§s vizsgßlatok folynak, hogy kiderÝtsÚk a vonalak jelentÚsÚt. A terŘlet egyik leghÝresebb kutatˇja Martin Brennan, aki t÷bb mint 700 faragott k÷vet elemezett mßr. VÚlemÚnye szerint a legt÷bb motÝvum asztronˇmiai Ús kozmolˇgiai megfigyelÚseket tŘkr÷z. "A Boyne-v÷lgyi embereknek nagyon fontos volt a Nap mozgßsßnak tanulmßnyozßsa. Ňk voltak az ˙jk§korszak legŘgyesebb napˇrakÚszÝt§i" - ßllÝtja Brennan. ═gy a Newgrange t÷bb Úrdeme mellett a legrÚgebbi Ús legnagyobb napˇrßnk.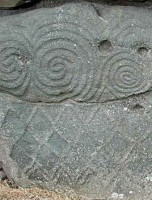 Emellett a sÝrkamra ritußlis jelent§sÚge is kiemelked§, ugyanis a dÚlkeleti bejßrat f÷l÷tt talßlhatˇ nyitott fŘlkÚn keresztŘl a tÚli napfordulˇ idejÚn tizenhÚt percen ßt besŘt a nap, s fÚnyÚvel bevilßgÝtja a sÝrkamrßt. A folyosˇsÝrok bels§ szentÚlyÚt csak ekkor "Úri" napfÚny. MÝchael O'Kelly, a Cork Egyetem archeolˇgiaprofesszora – aki feltßrta a kamrßt – 1969. december 21-Ún Úpp a folyosˇsÝrban tartˇzkodott, Ús szemtan˙ja volt a varßzslatos jelensÚgnek. Tapasztalatait az alßbbiakban ÷sszegezte: "Pontban reggel 9 ˇra 54 perckor a napkorong fels§ szÚle megjelent a horizonton, 9 ˇra 58 perckor az els§ fÚnysugßr ßthatolt a rÚsen, Ús vÚgigpßsztßzta a folyosˇt. Majd bevilßgÝtott a sÝrkamrßba, vÚgŘl eljutott a leghßtsˇ kamra medence alak˙ k§t÷mbjÚig. A kezdetben mÚg vÚkony fÚnysugßr k÷zben 17 cm-esre szÚlesedett, Ús amikor a kamra padlˇjßra tűz÷tt, drßmai mˇdon szinte lßngba borÝtotta az egÚsz sÝrkamrßt. Tisztßn megvilßgÝtotta a t÷bbi kamrßt, Ýgy lßthatˇvß vßltak a gyßmk÷ves tet§ aprˇ rÚszletei is, 10 ˇra 4 perckor a fÚnynyalßb keskenyedni kezdett, 10 ˇra 15 perckor pedig eltűnt."
Az Úvente egyszeri, d÷bbenetes jelensÚg bßrki szßmßra megtekinthet§, de ezen alkalmakra jegyek csak el§vÚtelben kaphatˇk, s az Úrdekl§d§knek tÝz-tizen÷t Úvet is vßrniuk kell, mire sorra kerŘlnek.

A Newgrange vajon csak egy sÝremlÚk, vagy valamilyen mßs jelentÚse is van?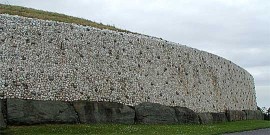 A tÚli napfordulˇ az Úv legr÷videbb napja, a termÚszeti ˙jÚv kezdete, az alvˇ f÷ld ÚbredÚse. A sÝr bejßratßt dÝszÝt§ k§ mintßzata hßromszoros spirßl. A bels§ spirßl jelkÚpezheti a lÚlek, halßl utßni ˙tjßt, a kŘls§ pedig az ˙jjßszŘletÚst. Ha ez a feltÚtelezÚs helyes, akkor ez a kozmikus tojßs a termÚkenysÚg jelkÚpe lehet, benne pedig az Úlet Ús halßl ÷r÷k k÷rforgßsa. A prehisztorikus kor papjai a kamrßk k§medencÚibe valˇszÝnűleg a legtiszteletremÚltˇbb §s÷k maradvßnyait helyeztÚk, Ýgy biztosÝtottßk szßmukra a fÚnysugarak Últet§ ereje ßltal csalßdfßjuk tovßbbÚlÚsÚt…
Newgrange ÚpÝt§i talßn k÷zelebb akartak kerŘlni a VilßgmindensÚg titkaihoz, s ha ez igaz, akkor a Newgrange magßnak az Úleter§nek a jelkÚpe.

Tetszett a cikk? KŘldd el az ismer§s§dnek!
Hozzßszˇlok!