#22
Gresham-palota, a négyévszakos luxus
Az 1900-as évek elején sokan az akkori új Budapestet kimondottan csúnyának, az épülõ szecessziós és eklektikus palotákat pedig egyszerûen hamisnak titulálták. A stílusnak pár évtizeddel késõbb is voltak ellenzõi. A Gresham-palotáról az építész Granasztói Pál 1971-ben még ezt írta: "A vele szemben álló Lánchíd nemes formáitól teljesen idegen. Már csak ezért is nehéz megszokni, cikornyás formáit pedig még nehezebb." A sors fintora, hogy ugyanez az épület 2004-ben, egy mintegy 85 millió dolláros átépítés és restaurálás után, a közép-európai szecesszió remekévé lépett elõ.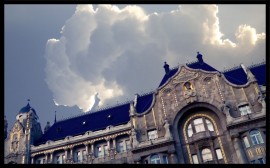 Lánchíd pesti hídfõjével szemben álló Gresham Budapest egyik legismertebb háza. Quittner Zsigmond és a Vágó fivérek tervei alapján épült 1907-ben, a londoni The Gresham biztosítótársaság budapesti székházaként. Nem csoda, hogy ellenérzések kísérték az építkezést, hiszen amikor elkészült, még sokan emlékeztek a telken álló korábbi épületre, a Nákó-palotára, amelyet az 1830-as évek legelején építtetett fel a dúsgazdag görög kereskedõcsalád. Hild József remekét 1880-ban vásárolta meg a londoni székhelyû életbiztosító társaság, s majd húszéves használat után bontatta le. A klasszicista szépség helyére szecessziós csoda került, mely minden részletében a századelõ robbanásszerû fejlõdését tükrözte. Az 1906-ban befejezett építkezést Mann József vezette, és a kor ismert mûvészeit vonták be az épület díszítõmunkáinak elkészítésébe. A szobrokat Telcs Ede, Maróti Géza és Ligeti Miklós, az üvegablakokat és mozaikokat Róth Miksa, a kerámia-díszítéseket a Zsolnay-gyár készítette, míg a míves kovácsoltvas részletek Jungfer Gyula alkotásai.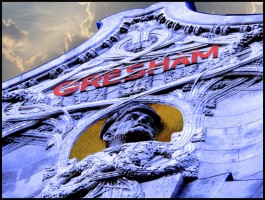 Földszintjén egykor a híres Gresham Kávéház mûködött, e kávéházban tartotta összejöveteleit a 20-as években a Gresham-körnek nevezett mûvészeti társaság. Tagjai - Berény Róbert, Bernáth Aurél, Egry József, Márffy Ödön, Pátzay Pál és Szõnyi István - hetente kétszer találkoztak. A Gresham-asztaltársaság több generációhoz tartozó, különféle stílusokat kedvelõ mûvészek, valamint írók és gyûjtõk baráti köre volt. A társasághoz tartozott még Czóbel Béla, Ferenczi Béni, Ferenczi Noémi, Borsos Miklós, Genthon István, Oltványi Ártinger Imre is.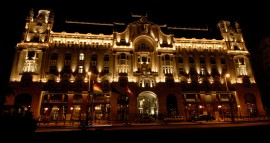 A gazdasági válságnak köszönhetõen a húszas évek közepére a Gresham-társaság megszüntette magyarországi tevékenységét. Az épület leromlása azonban csak a második világháború és az azt követõ államosítás után kezdõdött meg. Az '50-es évektõl a földszinten irodák, az épületet átszelõ, üvegkupolás vasszerkezettel lefedett passzázsokban elõkelõ boltok kaptak helyet, az emeleteken pedig elegáns lakásokat alakítottak ki. Legfölül voltak a házmesterlakások és mosókonyhák, a pincében pedig a központi porszívó berendezései. A közlekedést mahagóni liftek segítették, a kényelmet gõzfûtés és központi melegvízellátás biztosította. A lakók választhattak elektromos és gázvilágítás között. A palotában kialakított lakások a vagyonos polgárok, arisztokraták, mûvészek kedvelt lakóhelyének számítottak.
A rendszerváltást követõen a Gresham sorsa sokáig eldöntetlen volt. A pusztulás fenyegetõ jelei már igencsak meglátszottak az épületen. A 24. órában vásárolta meg 1999. januárjában a Gresco Rt., és a renoválás hamarosan el is kezdõdött. Az épületet régi pompájában 2004-ben adták át. A beruházás 2005-ben Építõipari Nívódíjat kapott "mûemlék-helyreállítás, rehabilitáció" kategóriában.

A Gresham-palotában ma a Four Seasons hotellánc egyik ultramodern luxusszállodája üzemel: Four Seasons Gresham Palace Hotel néven. A felújítás után összesen 179 szobaegységet alakítottak ki. A palota igazi unikuma, a 2. emeleten található, 136 m2-es királyi lakosztály, azaz a Royal Suite. Ugyanis míg elnöki lakosztályból kettõ is található az épületben, addig a királyiból mindössze egy. Az art deco stílusú Royal Suite hatalmas teraszáról belátható egész Buda, és gyönyörû kilátás nyílik a Dunára. A berendezés természetesen teljesen egyedi, mondhatni haute couture. A királyi lakosztály egy éjszakára 4200 euróba kerül, ami az adót, valamint a reggeli árát nem tartalmazza. Egy standard szoba ára 250 eurónál, azaz 60 000 forintnál kezdõdik. Nem véletlenül ez ma Magyarország legelõkelõbb és legdrágább szállodája is. A Páva étterem és a Greshem kávéház exkluzív borlapján 120-130 féle borból választhat a vendég, Magyarország valamennyi borvidékérõl a legjobb termelõktõl. A Páva étterem toszkán ételkülönlegességei mellé pedig igazi olasz borokat kortyolgathatunk ebéd vagy vacsora közben.
Alig egy éve nyitotta meg kapuit az öt csillagos a Four Seasons Hotel Gresham Palace, amikor elnyerte az amerikai Robb Report magazin 2005-ös év legjobb szállodájának járó díját, azaz a "Best of the Best Hotel 2005"-öt. A lap minden évben, júniusban jelenteti meg az általa összeállított toplistát. A listán kizárólag luxuskategóriás szállodák szerepelnek, hiszen a lap olvasóinak átlagkeresete 1,2 millió dollár. A Gresham ezzel megelõzte többek között a milánói Bulgari Hotelt és a Buenos Aires-i Faena Hotel & Universe-t. A magazin szerint a Four Seasons pesti vendégeinek csak a fele üzletember, a másik fele turista. A hotel teljes vendégkörének többsége Észak-Amerikából érkezik, a második helyen az angolok állnak. A luxusszálloda borsos árai dacára is számos telt házas napot könyvelhetett el nyitása óta. Bár a foglaltságról pontos adatokat a cégcsoport szabályai szerint sosem közölnek, az viszont tudható, hogy nem egy vendég szállt már meg a királyi lakosztályban, miként a csupán 500 euróval olcsóbb két elnöki lakosztályban is.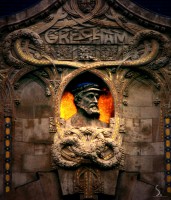 Nem ez az egyetlen elõkelõ elismerése a hotelnek, hiszen a Robb Magazin mellett a Condé Nast Traveller, a világ elsõ számú utazási magazinja választotta a legjobb 33 szálloda közé. Condé Nast Traveler, a 2006. januári számában közzétette a mintegy 28 ezer olvasói szavazat alapján összeállított 700-as aranylistáját. A budapesti Four Seasons Gresham a lehetséges száz pontból összességében 93,9-et kapott, maga mögé utasítva ezzel többek között a Los Angeles-i, a bangkoki, a tokiói, a washingtoni, a bostoni, a dublini, a londoni, a Las Vegas-i vagy a prágai Four Seasons-házat is.
Tetszett a cikk? Küldd el az ismerõsõdnek!
Hozzászólok!