#5
Super Bowl – Szuper volt
Biztosan te is hallottad már félig üvöltve: Touchdown. Egy nálunk is egyre népszerûbb sport, az amerikai futball legtöbb pontot érõ akcióját jelenti. Góóól. Magyarországon az egyik sportcsatorna rendszeresen közvetíti a mérkõzéseket, és a sportág hazánkban is megvetette a lábát: több mint 15 város, 23 csapat alkotja a magyar bajnokságot. Mi õrjít meg 100 millió amerikait és világszerte közel egymilliárd embert, hogy lássa az amerikai liga döntõjét, a Superbowlt?

Az amerikai futball a XIX. század végén jött létre, természetesen a rögbibõl alakult ki. Azonosítás végett: itt többféle gólszerzési lehetõség van, pl.

- a labda vonalon való átjuttatása (touchdown),

- kapura rúgással.

A szabályokat itt nem ismertetem, számos oldalon el lehet olvasni magyarul is. Az élmény megéléséhez talán nem is feltétlenül szükséges, sokkal inkább pénz és egy nagy adag szerencse kell.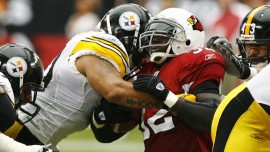 A Super Bowlban megtestesül a 21. század, a divat, a túlzott felhajtás, globalizáció, a csúcstechnológia, a kirakat, az egész egy marketing sikerkönyv. Miért ajánlom mégis a figyelmedbe? Mert nemcsak te és a természet találkozása (búvárkodás, extrém sportok stb.) okozhat élményt, hanem egy ilyen félkamu esemény is felcsaphatja az adrenalinszintedet. Kezdetben csak nézelõdsz a stadionban, aztán egy fél óra múlva magadból kikelve üvöltesz, egy touchdown pedig többet jelent már, mint a diplomaosztód. Hidd el, ez így igaz, ha vérmérsékleted megüti egy hüllõét, akkor nem felejted el a Superbowlt.
Miért nagy szám a Super Bowl?

1.) Mert ezt hitették el az emberekkel. Az USA-ban tíz legnézettebb mûsor közül kilenc az utóbbi évek döntõi. Michael Phelps úszódöntõit hiába tették amerikai idõ szerint estére, a pekingi olimpia nézettsége sem tudta felülmúlni az amerikai fociét. Nézik, mert mindenki errõl beszél.

2.) Mert férfias, jó sport. Kemény ütközések, futás, izmok egymásnak feszülése jellemzi. Nekirontanak egymásnak, lehúzzák a földre a másikat, tuti vadászösztön – talán még a nézõkben is. Tetkók, kigyúrt izmok, a legkeményebb hidegben is rövid ujjú pólóban játszó játékosok. A túlzott keménység miatt, 1906-ban Roosevelt elnök még be akarta tiltani, ma már a korszerû védõfelszereléseknek köszönhetõen sokkal kevesebb a súlyos sérülés.

3.) Nehéz rá jegyet szerezni. 600-800 $ egy jegy, az interneten 8.000 körül lehet beszerezni. (Ez Amerikában hivatalosan is eladható.) Aki teheti 125.000-ért 20 személyes páholyt bérelhet – barátokkal még tutibb.

4.) Sztárok mindenhol. A nézõtéren számtalan híresség, a himnuszt éneklõ is legalább amerikai sztár. A félidõben (30-40 perc) összetákolnak egy színpadot, három éve a Rolling Stones, idén Bruce Springsteen adott rajta mini koncertet, itt villantott korábban Janet Jackson is.

5.) Profi körítés. Óriási beharangozója van az események, heteken keresztül errõl szól a média, összekapva néhány infó: reklámok; erre az alkalomra majdnem minden hirdetõ külön reklámokat készít; fél perc hirdetés 3.000.000 $-ba kerül; a döntõ utáni napon több mint ezer újság foglalkozik csak a reklámokkal; 2,5 millióan cseréltek tévét a 2007-es döntõ elõtt; megkérik a tévézõket, hogy ne mindenki a szünetben menjen pisilni, mert néhány város szennyvízhálózata nem bírja a nagy terhelést.

Na elég lesz már az érdekes, de semmitmondó adatokból. Tudom, hogy Frei dosszié-szerû, de ennek fontos szerepe van az élmény tupírozásánál. Anélkül pedig nem lenne több, mint egy magyar bajnoki focimeccs. Azt meg mégsem ajánlanám be a toplistás élmények közé.

A döntõ – ahogy te is láthatod:

Az esti döntõre már délelõtt érdemes megérkezned. Mivel az amerikai stadionok egyben plázának is számítanak, így nem lehet gond 5-6 óra eltöltése. Sokan a parkolókban piknikeznek (iszonyat komoly hordozhatós cuccokkal). Itt könnyû ismerkedni, a legtöbben szívesen meghívnak egy adag ételre, beszélgetnek veled, mert a normál amerikai barátságosság mellett még egy dolog összeköt benneteket: van jegyetek. Ha nem tetszik a barbecue, akkor válogathatsz a stadionban lévõ számos étterem közül.

Ha nincs jegyed, a nepperektõl szerezhetsz illegálisan, horror áron. Ha kevés a pénzed, várj a mérkõzés kezdetéig, akkor meredeken esnek az árak.

Kora délután már sokan beülnek a helyükre, számos felvezetõ mûsor szórakoztatja a nézõket: fúvós zenekar, mazsorettek, zene és foci minden mennyiségben a több tucat kivetítõn. Kapkodod a fejed, jobbra-balra. Az idei döntõ helyszínén Tampában egy kalózhajót építettek be a lelátóba, amelyik ágyúival hangpróbát tartott.

A sorok között árusok járnak, hogy ne kelljen feleslegesen elhagynod a helyed, sört és hot-dogot vehetsz tõlük. Ilyenkor már nem illik elõvenni az otthoni szendvicsedet, a szomszédjaid sem nézik jó szemmel. Enni pedig muszáj, mert egy mérkõzés 3-4 órán keresztül is tart. Ha nem ismered a szabályokat, akkor a melletted ülõkkel van idõd átvenned a lényeget.

A meccs elõtti közvetlen ceremónia minden évben hasonlóan alakul. Néhány beszéd, óriási amerikai zászló, tengerészgyalogosok, majd jön a himnusz (közösen énekli mindenki, nincs ellenfél, kifütyülés), majd a himnusz vége után három másodpercen belül iszonyú hanggal elhúznak feletted a F16-os vadászgépek. Tûzijáték. Biztos, hogy az adrenalin már a magasban, nem kételkedsz, kivételes helyen vagy.

A szünetben két fontos dolgot kell megoldanod:

Pisilni muszáj, az egyetlen gond, hogy rajtad kívül 40-50 000 ember is így érez. Rengeteg a mosdó, de tuti a sorban állás. Aki meccs közben oldja meg, az ott sem marad le semmirõl, mert tévéket ott is elhelyeztek.

A másik a már említett koncert, amire egy-kétezer nézõt is beengednek. Kicsit csordaszerûen terelgetnek, nincs ellentmondás, mész ahová terelnek. Ugrálnak a lábadon, oldalba löknek, már bánod a koncertet, aztán felnézel és Bruce Springsteen megfogja a kezed. (Legalábbis sokkal nagyobb az esélye, mint bármelyik más koncerten.)

A meccs izgalmairól nem számolok be, talán elég annyi, hogy az idei döntõn négyszer fordult meg az eredmény, utoljára 30 másodperccel a vége elõtt. Vadidegenekkel ölelkezel össze, azonnal telefonálsz, mert ezt az élményt muszáj megosztani másokkal.

Arra biztatlak téged is, hogy ha teheted, szerezz egy jegyet a nagydöntõre, de mivel több százezer forintos mulatságról van szó, nem árt, ha teljesebbé teszed az élményedet és a tévékben adott meccsekkel hangolódsz rá.

Hozzávetõleges költségek (forintban):

- Repjegy 200.000

- Beugró: 180.000

- Fogyasztás: 30.000

Össz: 410.000 Ft

Tetszett a cikk? Küldd el az ismerõsõdnek!
Hozzászólok!