#15
Voisin C28 Aérosport - Vissza a jövõbe
Szórakoztató dolog a régi autósújságokban a korabeli tanulmányautókról olvasgatni. Ami a múltban sci-fi volt, az az utókor számára gyakran inkább abszurd humor. Az évtizedekkel ezelõtt megálmodott "jövõ autóin" ugyanúgy el tud röhögcsélni az ember, mint például az akkor divatos sérókon, vagy netán rácsodálkozhat milyen futurisztikusan hatott egy 30 évvel ezelõtti kiállításon annak az öreg reteknek a prototípusa, amit a szomszéd a múlt héten tolt be a bontóba. A Voisin C28 Aérosport is sci-fi volt a maga idejében, és több, mint 70 év elteltével pedig... nos, még ma is az.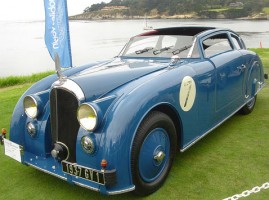 A húszas-harmincas évek jelentették az autóépítés igazi hõskorát. Nem voltak még kitaposott ösvények, látszott ugyan, hogy mi a fejlõdés útja, és mibõl lesz zsákutca, de még volt helye a mûszaki extravaganciának az autóiparban. Rengeteg – azóta a feledés homályába merült – manufaktúra mûködött és alkotott, és a ma domináló gyártók közül több is ezekben az idõkben alapozta meg késõbbi sikereit. Az egyedileg karosszált, kézzel készített, fényûzõ luxuskocsik idõszaka volt ez, amit olyan nevek fémjeleztek, mint az Isotta-Fraschini, a Hispano-Suiza, a Rolls-Royce, a Duesenberg, és a Maybach, olyan autók, amikhez képest a mai Rollsok és Bentley-k közönséges tucattermékek voltak.
Ilyen márka volt a francia Voisin is. Gabriel Voisin autói – az imént felsoroltakhoz hasonlóan – kis példányszámban készültek, karosszériájuk már-már mûvészi alkotás volt, és a lemezek alatt csúcstechnika és csupa-csupa extravagáns mûszaki megoldás lapult. Persze ennek megfelelõen méregdrágák is voltak a járgányok. Modern mûvészi alkotásnak titulálni cseppet sem volt túlzás, mivel a karosszéria vonalait Voisin üzlettársa, a mûvész André "Noël-Noël" Telmont vetette papírra. Az általa megálmodott autók Art-Deco stílusjegyeket viseltek magukon. A cég egyik célkitûzése volt a "Jövõ Autójának" a megépítése, ezért kísérletezgettek V12-es motorral, egy 7 hengeres csillagmotorral (!), független kerékfelfüggesztéssel és önhordó karosszériával. A nagy gazdasági világválság azonban nem volt kifejezetten jó hatással az autógyártásra, a drága luxuskocsikat gyártó cégek közül többnek is lefõtt a kávé. Kis híján a Voisin is erre a sorsra jutott. A vállalat ugyan talpon maradt, de a harmincas évek elejétõl állandósultak a pénzügyi gondok, szinte folyamatosan csõdközeli állapotban agonizáltak.
André Telmont és Gabriel Voisin útjai is szétváltak emiatt 1933-ban, így innentõl kezdve a design is Voisin feladata lett. A tornyosuló viharfelhõk ahelyett, hogy megbénították és indiszponálttá tették volna, pont hogy a legjobbat hozták ki belõle. Az 1934-es Párizsi Autószalonon mutatták be a C24 Aerodyne modellt, rendkívül áramvonalas, automata tolótetõs kocsiszekrénnyel, amin azért még mindig érezni lehetett némi art-deco beütést. Nem sokkal késõbb a C27-es mûszaki alapjaira is készült egy hasonló, kétajtós Aerodyne-variáns, de sajnos mindkettõ egyedi gyártmány maradt, nem készült belõlük több példány.
A következõ Párizsi Szalonon a Voisin bemutatta a vadonatúj C28-as modellt, amely többféle változatban volt rendelhetõ, köztük a lélegzetelállító Aérosport kivitelben is. Az áramvonalas, jövõbe mutató formájú kupé sárvédõi a karosszéria szerves részét képezték – mint ahogy az két évtizeddel késõbb általánossá is vált az autógyártásban. Az Aérosport mellett rendelhetõ volt egy konvencionális megjelenésû, jóval szolidabb kinézetû kétajtós, illetve egy ugyanilyen kivitelû négyajtós modell is.
A C28-asok alumíniumból készültek, Knight-rendszerû, síktolattyús szelepekkel ellátott 3.3 literes soros hathengeres motor hajtotta õket – egészen 150 kilométer/órás végsebességig. A motor erejét egy négyfokozatú, elõválasztós (félautomata) Cotal váltó juttatta el a kerekekhez, és figyelemreméltó részlet volt még az indítómotorként is funkcionáló dinamó, azaz a dinastarter is.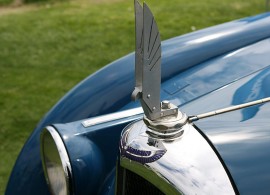 A sorozatgyártás 1936 telén indult be, de sajnos a kínálat tetejét képviselõ Aérosportra igencsak borsos, 92 ezer frankos ára miatt nem nagyon volt kereslet. A döcögõ eladások miatt végképp ellehetetlenült a cég, amelynek vezetésérõl Gabriel Voisin végül kénytelen volt lemondani. Az új menedzsment az árak csökkentésével, majd késõbb a kisebb, olcsóbb, visszafogottabb C30-as modell piacra dobásával próbálkozott, de ekkor már túl késõ volt. Összesen körülbelül 60 darab C28-as épült meg, és ebbõl mindössze három volt Aérosport-változat. Ezek közül is mindössze egy maradt fenn az utókor számára. A szóban forgó kocsit egy neves párizsi csokoládégyáros, Antoine Menier vásárolta magának részint versenyzésre, részint pedig utcai használatra.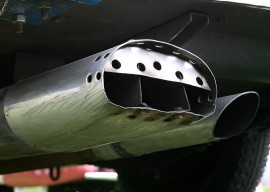 A vegyes üzemmódra utal a kettõs kipufogórendszer is: meghagyta a kocsi eredeti, tompított kipufogórendszerét, de emellett egy versenyzésre alkalmas nyitott rendszert is felszereltetett, így lábon tudta vinni a versenyekre vinni a kocsit, a pályán pedig átváltott a dübörgõ hangú nyitott rendszerre. A korabeli francia versenyautókra jellemzõ kék színre festett C28-asban azért megmaradtak az olyan fényûzõ extrák, mint a pneumatikus mûködtetésû tolótetõ. Menier-tõl a híres gyûjtõ, Serge Pozzoli vette meg a járgányt 1955-ben. Az eredeti állapotában fennmaradt kocsi azóta néhányszor gazdát váltott, egyre magasabb áron, és mindegyik gazdája a gyûjteménye legértékesebb darabjaként tartotta számon, de a pénzben kifejezhetõ értéke az csak egy dolog. Ez a kocsi egy letûnt kornak, az autógyártás hõskorának egy kézzelfogható darabja, az akkori úttörõ mérnökök, formatervezõk, és szakmunkások zsenialitásának a guruló emlékmûve, egy igazi mûalkotás, és mint ilyen, felbecsülhetetlen.
Tetszett a cikk? Küldd el az ismerõsõdnek!
Hozzászólok!