#6
Lotus Elise - Könnyű és finom
Sportos menetteljesítmények, pompás gyorsulás, lélegzetelállító kanyarstabilitás. Ezek azok az elcsépelt szuperlatívuszok, amikkel lassan minden prospektusban találkozhatunk. Ha újra akarjuk értékelni ezeket a fogalmakat, akkor üljünk be egy Lotus Elise-be. Ideális választás, ha mindenkit hülyére akarunk verni egy országúti kergetőzés során.

Mi kell egy jó sportautóhoz? A közvélekedés szerint első az erős motor, aztán a jó futómű és fékek, és csak utolsósorban a kedvező teljesítmény/tömeg arány. Pedig az utóbbi a legfontosabb. Colin Chapman, a Lotus alapítója nagyon jól tudta ezt, és kiválóan sikerült is átültetnie a gyakorlatba.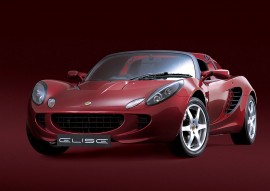 A sebességmániás mérnök már az egyetemi évei alatt egy versenyautó építésén törte a fejét. Vett egy öreg Austin Sevent és abból építette meg az első versenygépét. A motortuning helyett inkább a kis tömegű szerkezet kialakítása volt az elsődleges szempont. A kocsi szinte azonnal sikeres lett, és pár kisebb versenyt meg is nyert. Amikor 1951-ben diplomázott, már a harmadik konstrukciónál tartott. Az Mk. 3-as, térhálós csővázas felépítésű versenyautója tarolt a 750 köbcentis Formula kategóriában. Ebből a kocsiból már több példány is készült, de kizárólag versenyzők vásárolták. Az első utcai autót 1957-ben dobta piacra a cég - azzal a céllal, hogy a Forma 1-es világbajnokságon szereplő Team Lotus anyagi hátterét megteremtsék. Ez az említett járgány volt a legendás Lotus 7, aminek a replikáit mind a mai napig licenc alatt gyártja több különböző cég is.
Még ugyanebben az évben következett az Elite, ami akkoriban forradalminak számító kompozit önhordó vázszerkezettel rendelkezett. Az utcai Lotusok is híven tükrözték Chapman autóépítési filozófiáját: minél könnyebb és merevebb szerkezet, a lehető legkevesebb kényelmi felszerelés, könnyű kezelhetőség, egy jó motor, és adott is a tökéletes sportkocsi. Az 1962-es Elan roadster óriási kasszasiker lett. A dupla vezértengelyes Ford motorral szerelt kocsiból 12 ezer példány készült, és a kor klasszikus angol roadstereit ha árban nem is, de menetteljesítményekben simán verte. Az Elan után piacra dobták az első középmotoros sportkocsijukat, az Europát is. Az Europa első üléssora mögött egy Renault 16-os motorja szolgáltatta a lóerőket.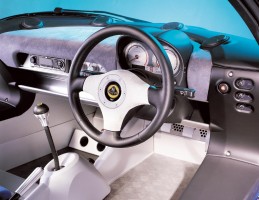 A cég tevékenységi köre a hatvanas években kibővült a mérnöki tanácsadással is. Több neves gyártónak is a Lotus tervezte a karosszériát, olyanoknak is, mint például a DeLorean DMC vagy a DeTomaso Mangusta, és számos gyárnak készítettek kis szériás tuningmodelleket a meglevő autóik alapjaira. Ilyen volt a Lotus Cortina (Ford), Lotus Omega (GM-Opel). Idővel ez a részleg, a Lotus Engineering lett a fontosabb, mert az önálló személyautó-gyártás kezdett visszaesni. A cég az Esprittel kívánt betörni a szupersportkocsik piacára, de az olajválság utáni időszak nem volt éppen a legalkalmasabb pillanat. Az Esprit nem váltotta be a hozzá fűzött reményeket pénzügyi téren, de a Lotus hírnevének jót tett. A többi szupersportkocsihoz képest meglehetősen kicsi, 2200 köbcentis négyhengeres motorja volt csupán, de ebben a kategóriában első volt a hengerenkénti négyszelepes égéstérrel és a turbófeltöltéssel. A nyolcvanas években a sorozatos pénzügyi nehézségek, és Colin Chapman halála miatt a Lotus előbb részben a Toyota birtokába került, majd miután ők átmentették maguknak a hengerenkénti többszelepes fejlesztéseket, eladták a részvénycsomagjaikat. Ezután a Lotus teljes egészében a GM tulajdonába került. Az ő fennhatóságuk alatt fejlesztették ki az Elan Mk. 2-t, de a kocsi teljesen ellenkezett Chapman eredeti filozófiájával. Túlsúlyos volt, gyenge, és ráadásul elsőkerékhajtású. Árban sem tudott versenyezni az akkoriban feltűnt japán roadsterekkel, mint például a Mazda MX-5-tel. Az eladások alig mentek, a GM 1993-ban kiszállt, és eladta a Lotust egy olasz befektetőnek, bizonyos Romano Artiolinak. Ő volt az az ember, aki a Bugatti márkát újraélesztette, és körülbelül hasonló csodát művelt a Lotus-szal is.
A gyár következő modellje, a viszonylag kis költségvetéssel kifejlesztett kétüléses, középmotoros, ultrakönnyű minimál-roadster Artioli unokája után az Elise nevet kapta. Az 1996-ban bemutatott kocsi szinte azonnal viharos sikert aratott. Olyan volt, mintha maga Colin Chapman tervezte volna. A repülőgépiparban használatos ragasztásos technológiával készült ultrakönnyű alumínium vázszerkezete mindössze 70 kilogrammot(!) nyomott a mérlegen. Az egész autó is alig több mint 700 kilogramm (picivel nehezebb mint egy Trabant), és mindehhez egy 118 lóerős, 16 szelepes MG-Rover származású négyhengeres motor párosult. Ez a teljesítmény töredéke egy Porsche, vagy egy Ferrari teljesítményének, az Elise mégis képes volt az ilyen kaliberű autókat megszégyenítő gyorsulásra, a kedvező tömeg/teljesítmény aránya miatt. Később érkezett egy 190 és egy 143 lóerős változat is, majd 2000-ben véget ért az Elise első szériájának a gyártása. A Lotus egyik legnagyobb sikerének számító kocsi természetesen nem maradhatott folytatás nélkül, így követte őt a jelenleg is kapható második szériás Elise.
(folyt köv.)
Tetszett a cikk? Küldd el az ismerősődnek!
Hozzászólok!