#25
Lexus LS 400 - A madám
Kicsit Audi, kicsit Ford, kicsit Mercedes, kicsit BMW, kicsit valamelyik amerikai batár a sok ezerbõl. Mellesleg meg japán.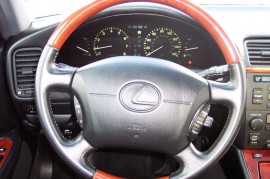 A nyolcvanas évek vége felé az autóipar kezdett elszürkülni. Minden gyártó piacra dobta az épp aktuális modelljét, a Golfból a tizenegymilliomodik darabot közelítették a germánok, Passatból is a harmadik generáció dübörgött a gyártósorokon, és ki ne emlékezne a korszak feledhetetlen Fiat Unoira és Regatáira? A középkategória többé-kevésbé teljesen foglalt volt itt Európában, az USA-ban meg leginkább a gyereknek vették meg játszani, vagy az asszonynak bevásárolni az itt családi autónak használt modelleket, és leginkább az ott megszokott felszereltségû batárokkal járkáltak, amelyek – valljuk be – leginkább az amerikai autógyártásból kerültek ki. Néhány európai gyártónak sikerült ugyan betörnie erre a meglehetõsen speciális igényû piacra, de igazi nagy berobbanás nem következett be.
Eidzsi Toyota a 80-as évek elején szintén rájött, hogy a Japánt porig bombázó országot azzal lehet a legjobban büntetni, hogy befurakodva nemzeti autópiacára, dollármilliókkal rövidítik meg a gazdaságát. Nosza, 1983-ban a gondolatot tett követte, és kezdetét vette az autótörténet egyik legelmebetegebb vállalkozása. Elsõ körben a piaci igények és a konkurens márkák és típusok felmérése volt a feladat, és a Toyota cég ennek japános hozzáállással tett eleget: az Öreg dizájnerek és mérnökök hadát küldte széjjel a szélrózsa minden irányába, legkivált Európába és Floridába, ahol is a vásárlók igényeit, életvitelét, vezetési stílusát dokumentálták a legmesszebbmenõ precizitással, feljegyezték a különféle autómárkák típusainak erõs és gyenge pontjait, vevõelégedettségi statisztikákat készítettek. Eközben a hátországban kitalálták a nevet, amelynek hátán az USA-ban kissé lesajnált és menthetetlenül kisautónak bélyegzett Toyota kiemelkedhetett a skatulyából: Lexus. A névhez azonban még jó ideig nem tartozott egyetlen prototípus sem, mert Eidzsi parancsa szerint az új autó nem tartalmazhatott semmit már meglévõ Toyota modellekbõl, mindemellett olyan tulajdonságokkal kellett rendelkeznie, hogy a Cadillacen és Buickon nevelkedett amerikai polgár ellenállhatatlan késztetést érezzen arra, hogy mostantól ebbe csorgassa a napi betevõ hamburgerét. Ennek megfelelõen a tervezés során 300 szabadalmat jegyeztek be a Toyotának…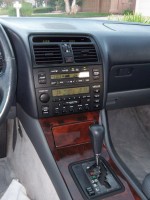 A csodára várni kellett egészen 1985-ig, ekkor készült el ugyanis az elsõ példány, szigorúan tesztelés céljából. Egy csiszolatlan gyémánt, amely 1400 mérnök, 2300 technikus, 60 dizájner és számos más résztvevõ közremûködésével készült el, a legszigorúbb alapelvek figyelembevételével.( Hangmérnökök hada tervezte meg a hifi hangminõségén túl az autó összes zaját és vibrációját, az ajtók csapódásának hangjától a kapcsolók kattanásáig.) Ezután újabb és újabb prototípusokat kellett legyártani, szám szerint 450-et (ez több, mint a világon létezõ összes Ferrari Enzo), párhuzamosan 1986-tól megindult a valós körülmények közötti nyúzás is. A tervezõk egyszerûen mindenre gondoltak: az USA-beli melegre és száraz vagy épp tengeri levegõre, az orosz télre, a városi épp-csak-felmelegszik-üzemre éppúgy, mint a német autópályák sebességkorlátok nélküli, hosszas 240-es tobzódására, esetleges Autobahnpolizei-segítséggel.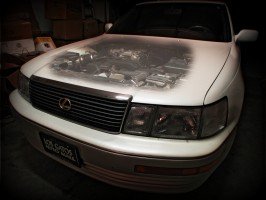 Idõközben formát öltött a végsõ név is: Lexus LS 400. Az LS természetesen a rendkívül fantáziadús Luxury Sedan rövidítése, a 400 pedig a motorra utal, ami a maga 3969 köbcentijével, 32 szelepével, V8-as kilencven fokos elrendezésével meglehetõsen markáns erõforrásnak számít még ma is. Ha hozzáadjuk a 250 lóerõs teljesítményt, amit 5600-as fordulaton ad le, láthatjuk, hogy az öreg Toyota nem fogott mellé, amikor a nagy európai luxusmárkák ellenfelének szánta az elsõ Lexust. A teljesítményre nem lehet azt mondani, hogy olyan egetverõen sok, de egy luxuslimuzinnak nem is kell több (ezzel is 7,9 másodperc alatt éri el a százat), a kényelmes tempójú utazáshoz ez bõven megfelel, a komfortérzést pedig egyrészt a légrugózás, a szinte mindenre kiterjedõ elektromos vezérlés, az Optitron vetített, tükrözõdésmentes mûszerfal, a négysebességes automata váltó, a valódi króm- és fabetétek, másrészt a majd' 1,7 tonnás saját tömeg adja hozzá.
A formájára lehet azt mondani, hogy unalmas. Ám ahogy az unalmas öltönyök is folyamatosan divatban vannak, úgy ezt az unalmas formát is lehet a rajongásig szeretni, tekintettel arra az õsi mondásra, mely szerint: "A divat változik, a stílus örök." Márpedig ez utóbbiból az LS400-nak bõven adagoltak a japán formatervezõk, figyelembe véve az elmúlt 50 év limuzinjainak meglehetõsen hasonló formaterveit…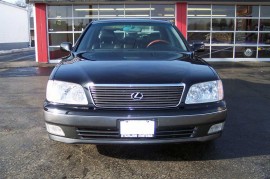 A japán fanatizmussal, évek hosszú sora alatt a tökéletességig faragott kocsi végül is 1989-ben került a futószalagokra, és indult világhódító útjára, és az elvárt sikert meg is hozta a "márkának". Az USA-ban egycsapásra ismert márka lett a Lexus, és az elmúlt 19 évben meg is mutatta, hogy méltó tulajdonosa annak a helynek, ahová került. Mert ez a kocsi tényleg tökéletes, ha a gyár által megadott karbantartásokat elvégzik, oda és akkor visz, ahova és amikor akarja a Gazda. Teszi mindezt olyan végtelen profizmussal, ahogy csak a Moulin Rouge örömlányai kényeztették a fáradt utazót a XX. század tízes éveiben. Egy cseppet sem csodálkozom rajta, hogy a statisztikák szerint Lexus-vásárlók 90 %-a soha életében nem vesz más autómárkát.
Az LS400 menthetetlenül beépült az amerikai kultúrába, az USA köztudatába. Aki nem hiszi, járjon utána: a legnagyobb klasszikusokat felvonultató hollywoodi filmben, a Tolvajtempóban van egy Hillary nevû négykerekû leányzó…
Tetszett a cikk? Küldd el az ismerõsõdnek!
Hozzászólok!