#19
Lancia Delta HF Integrale - Kockaexpressz
Adott egy átlagos alsó középkategóriás autó. Adott egy, ami az addigi sikereket szeretné folytatni a rali-világbajnokságon. Adott az FIA szabálykönyve, ami szerint kell legalább ötezer eladott példány a versenygép homologizációjához. Az eredmény közúti veszedelem, kockaformában.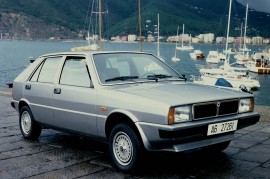 A hetvenes évek közepén – nyolcvanas évek elején mintha a gonosz földönkívüliek minden autógyár fejlesztő központjából eltüntették volna a görbevonalzókat. Hirtelen minden autóról eltűntek az ívek. Minden pontot egyenesek kötöttek össze, a gömbölyű formák, domborodó lemezek helyett minden részt síklapok határoltak. Ekkoriban kezdett el szinte kizárólagossá válni az alsó középkategóriában a VW Golf által képviselt építésmód is: orrmotor elöl keresztben, fronthajtás, nagy utastér, csapott hátú ötajtós (vagy háromajtós) karosszéria. A Golf valódi kasszasiker lett ezzel a megoldással, pedig a recept egyszerű volt. A VW-nél terveztek egy olyan autót, ami nagyjából a Fiat 128-ashoz volt hasonlatos mind szerkezeti szempontból, mind pedig méreteit, motorizáltságát és menetteljesítményeit illetően, a formát pedig rábízták a Giorgetto Giugiaro vezette Italdesign stúdióra. Az utasítás csak annyi volt: legyen szebb, mint a 128-as. Az lett (bár ez ízlés kérdése), és a kocsi 1974-es bemutatóját követően olyannyira tarolt, hogy az alsó középkategóriát azóta gyakran Golf-kategóriaként emlegeti a szakma.
Ezek után persze érthető, hogy minden gyár előbb vagy utóbb megépítette a saját "Golfját" amely kinek így sikerült, kinek úgy. A kocka-design korszakában akadtak bűnronda autók (mint például a D-Kadett), de az olaszok egész jól megoldották a dolgot. Sem a Fiat Ritmo, sem pedig a Regata nem volt túl szép (jó meg aztán pláne nem), de nem voltak rondák sem. Lehet, hogy perverz vagyok, de nekem a Regata formája még tetszik is.

Az olaszoknál maradva: a Lancia is megépítette a maga alsó középkategóriás autóját a másoknál is bevált sablon szerint. Az 1979-ben bemutatott Delta divatos volt, szögletes, a maga módján még szép is. 1980-ban megválasztották az Év Autójának, fogyogatott szépen, de nem volt igazán átütő sikere. Átlagautó átlagsikere, nagyon szép történet, köszönjük szépen...

Nagyjából ennyi is lenne a sztori, ha nincs a ralivébé. Ebben a nemes sportágban ugyanis a Lancia gyári csapata gyakran verte hülyére a konkurenseket a rajongók és a Lancia-kereskedők nem kis örömére.

Minden a Fulviával kezdődött. A nem kifejezetten versenyzésre kitalált, szelíd Fulvia Coupét alapos tuningkúrának vetették alá, és meglehetősen ütőképes raliautóvá tették. Eleinte 1200-as, 80 lóerős motor dolgozott benne, de a pályafutása vége felé a Fulvia HF 1600-as már 160 lóerővel szaggatta a murvát. Az iszonyatosan lekönnyített kocsi ezzel már sokszor maga mögé tudta utasítani a vetélytársakat, és rengeteg sikert ért el 1966-tól 1972-ig. A következő nagy durranás a Stratos volt, ami az 1973-as osztrák Sachs-Winter Rallye-n mutatkozott be Walter Röhrl-lel a volán mögött. A kifejezetten versenycélokra épített ék alakú kocsiban a hátsó tengely előtt kapott helyet a Ferrari Dinóból származó V6-os motor, ami 9000-es fordulatszámon háromszáz lóerőt szabadított a hátsó kerekekre. A Stratos emellett rendkívül könnyű és izgága autó volt, nem véletlenül illették tehát a szaksajtó munkatársai a "gépállat", "őserő", és "monstrum" kifejezésekkel. A Stratossal se maradtak el a sportsikerek: Sandro Munari három világbajnoki és négy Európa-bajnoki címet gyűjtött be vele.
Természetesen a Stratos nyugdíjazása után se maradtak ütőképes versenygép nélkül Lanciáék, mert csatasorba állították a 037 Rallye nevezetű autót. A leginkább a Lancia Beta Montecarlóra hasonlító, szintén középmotoros, hátsókerék-hajtású járgány valójában műszaki szempontból szinte az utolsó csavarig különbözött az utcai Beta Montecarlótól. A Stratosban alkalmazott V6-os helyett egy kompresszoros négyhengeres motor szolgáltatta az erőt. Első futamgyőzelmét az 1983-as Monte Carlo ralin aratta, Walter Röhrl irányításával. A Stratossal ellentétben nem volt izgága autó, sokkal jobb volt a vezethetősége a jobb tömegeloszlás miatt. Az ultrakönnyű acél csővázas kevlárkarosszéria és az alacsony fordulatról is jól húzó kompresszoros motor végül hat futamgyőzelemhez (Markku Alén kétszer, Walter Röhrl pedig négyszer diadalmaskodott) és ezáltal a csapatvilágbajnoki címhez is Hozzásegítette a Lanciát. A 037-es mégsem volt hosszú életű, mert az 1984-es évadban is világosan látszott már, hogy az összkerék-meghajtású kocsiké a jövő. Ebben a szezonban az Audi Quattro toronymagasan uralta a mezőnyt.
1985-ben az új B-csoportos szabályok szerint épített Delta S4 volt az olaszok válasza a Quattro sikereire. A raliban a B-csoport bevezetése szabad utat engedett a lóerőknek: ezek az autók ultrakönnyűek, iszonyatosan erősek, és még a gyakorlott pilóták számára is életveszélyesen gyorsak voltak. Az alig több, mint fél tonnás tömeghez párosuló 5-600 lóerős teljesítmény kordában tartásához halált megvető bátorságra és nem mindennapi képességekre volt szükség.

Ezeknek a gépszörnyeknek (pl. Audi Quattro Sport, Peugeot 205 T16, Lancia Delta S4) csak a nevük volt közös a szériaautókéval, és a mai WRC-knél is jóval gyorsabbak voltak.

A Delta S4-et elnézve valóban találó is a "gépszörny" elnevezés. Valóban mintha az utcai Deltára hasonlítana, de kicsit nagyobb, és sokkal rondább. Kevlárból készült karosszériája olyan, mintha baltával faragták volna, olyan Frankenstein-kinézete van. Félelmetesen erős, félelmetesen gyors, és látványra is félelmetes. Négyhengeres könnyűfém motorjának a teljesítményét egy kompresszor és egy turbófeltöltő együttes alkalmazásával tornászták fel 500 lóerő fölé.

Az 1986-os Korzika-ralin bekövetkezett halálos baleset után az FIA betiltotta a B-csoportos autókat, így a Lancia – a többiekhez hasonlóan – visszatért az A-csoportos versenygépekhez. Az 1987-es szezonban debütáló Delta HF 4WD a kezdetektől fogva uralta az A-csoportot, aztán ez a továbbiakban nem is nagyon változott. Zsinórban hatszor nyert a csapat világbajnoki címet, mielőtt a gyár visszalépett volna az autósporttól.

No, itt jön a képbe az utcai Delta. A raligép homologizációjához szükséges volt ugyanis 5000 eladott példány az adott típusból, amiből a versenyautó származik. Az olaszok tehát piacra dobták 1987-ben a Delta HF 4WD-t, ami turbót, injektort, összkerékhajtást, és intercoolert kapott, az alap Deltától pedig a kockalámpát felváltó agresszív kerek ikerfényszórók különböztették meg. Ahogy a gyáriak folyamatosan farigcsálták a versenyautót, úgy jelentek meg a továbbfejlesztett utcai változatok is.
A HF 4WD-t felváltotta a nyolcszelepes Integrale, majd 1989-ben a tizenhatszelepes Integrale 16 V, azután pedig következett szép sorban az EVO, EVO I, és EVO II. A végén nem csak hogy sikerült eladni a homologizációhoz szükséges minimális mennyiséget, de nagy piaci siker is lett. A nem túl alacsony vételár ellenére is több mint 44 ezer darab kelt el a turbós-összkerekes Deltákból.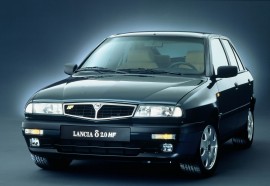 Akit egy kicsit is megmozgat a motorsport, az tudja, hogy miért is kihagyhatatlan a Delta HF. A kocsi a valódi versenyautók hangulatát hűen adja vissza, de nem olyan módon, mint az Impreza WRX, vagy a Lancer EVO. Nem annyira tökéletes, nem annyira japánosan precíz: a Lanciának lelke van. Tipikus nyolcvanas évekbeli hangulatot áraszt a beltere: steppelt bőr az üléseken, és szögletes formák mindenütt. A kopogós műanyagból készült dobozformájú műszerfal mai szemmel nem csak ronda, de praktikusnak se nevezhető. Kétségtelen viszont, hogy van hangulata, és pont az ilyen dolgok miatt szerethető a Delta. A kétezer köbcentis turbómotor hatalmas erejét az összkerékhajtás és az elülső Torsen-diffi segít az útra juttatni. Szinte érezni, ahogy a gumik az aszfaltba marnak, a kocsi iszonyatos gyorsulást produkál, és a közben átélhető hangorgia tovább fokozza az élményt. Lehet csúsztatgatni is, és bár száraz aszfalton ez csak a köridő rovására megy, lehet vele kilinccsel előre is menni. A súlyeloszlás pompás, a futómű nem különben így élvezet kanyarogni vele, és a jól eltalált áttételezésű váltó is hatásos segítség, ha versenytempóban akarunk végigmenni egy kanyarokkal tűzdelt útszakaszon.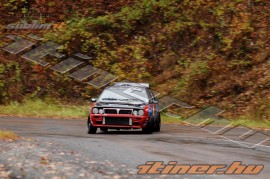 Az élményt tekintve nem is véletlen, hogy a használtpiacon is csak rettenetesen magas összegekért cserélnek gazdát a fennmaradt példányok. Aki úgy gondolja, hogy a Lanciával (teszkó)gazdaságos módon juthat egy Impreza WRX-kaliberű utcai raligéphez, az felejtse el a Deltát. Nem azért, mert nem olyan ütős, hanem azért, mert nem olyan olcsó. Általában olyan egymillió HUF környéki összegért már lehet Integralét kapni, rendszerint szanaszét hajtva. Nincs ugyanis olyan ember, aki ezeket a kocsikat ne küldené. A jó állapotú példányoktól meg persze bolond lenne akárki is (önszántából) megválni. Tehát egymillió körüli összegből van egy majd' húsz éves olasz autónk, ami alapos felújítást igényel. Erre nyugodtan rá lehet számolni még egyszer ekkora összeget. Ha ez is megvan, akkor vegyük a fenntartás költségeit: horror. A Delta HF megköveteli a rendszeres és gyakori karbantartást, és természetesen a minőségi alkatrészeket, illetve kenőanyagokat. Ha ezeket megkapja, akkor megbízható és rendkívül élvezetes kocsi. Ha a "folyik az olaj, de kit érdekel, inkább veszek alá gagyi neont"-mentalitással kezeljük, akkor viszont maga a pokol. Családi kocsinak, napi használatú autónak nem túl jó megoldás. Hétvégi játszósautónak viszont több, mint zseniális...
Tetszett a cikk? Küldd el az ismerősődnek!
Hozzászólok!