#39
Jonathan Swift: Gulliver utazásai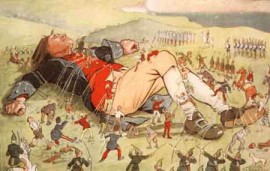 Mindamellett a gyanakodásra hajló nagy úr még mindig nem volt meggyõzve. Elbeszélésemet csupa mesének, vakmerõ koholmánynak és hazugságnak tartotta. Úgy vélekedett, hogy Glumdalklics és atyja tanítottak be néhány szóra és õk gondolták ki az elmondottam regényes meséket; avval a szándékkal, hogy engem minél nagyobb összegért eladhassanak. Azt pedig, hogy mi módon kerültem az õ országába, már éppenséggel nem akarta elhinni. Hajlandóbb volt engem szörnyszülöttnek tekinteni, mely az õ országában jött világra.
Hogy észbeli tehetségemet próbára tegye, több kérdést intézett hozzám. Így vélt elevenemre tapintani; így - gondolta - majd csak kibúvik a szög a zsákból és kiderül a valóság. De nem maradtam adós a felelettel, minden kérdésére szabatosan megfeleltem és ezzel nem kis mértékben bámulatba ejtettem.
Végre õ felsége maga elé idézte az ország három legtudósabb férfiét, megbízta õket, vizsgáljanak meg alaposan és gondosan s aztán adjanak rólam véleményt.
Ezt a három urat fontoskodásával roppant nevetségesnek találtam. Megtekintettek, össze-visszatapogattak, kikérdeztek és hosszasan vallattak. Ugyanazt feleltem nekik, amit már a királynak is elmondtam. A tanácskozásnak nem volt hossza-vége, míg végre megmondták a véleményüket. A vélemény, ahányan voltak, annyiféle volt; még hozzá milyen unalmas! Dehogy vinne rá a lélek, hogy elmondjam, mit is sütöttek ki rólam. Csak egy dologban egyeztek meg valamennyien, abban t.i., hogy testem szervezete nem képesít a megélésre, hogy sem gyorsasággal, sem a mászásban való ügyességgel, sem pedig a földben való túrással nem tudnám megkeresni élelmemet.
A nyihaha azt válaszolta, hogy úgy látszik, azok a jehuk, akikrõl Gulliver beszél, még az ittenieknél is förtelmesebbek. Mégis kísérteties hasonlóságot lát az emberek és a jehuk természete között.

A legnagyobb telitalálat a szatirikus regények világirodalmában, egyben az emberiség leggyilkosabb és legkíméletlenebb vádirata. Swift úgy vonult a halhatatlanok közé, hogy nem adott föloldozást sem magának, sem az emberiségnek, olyan író, aki nem ismer kegyelmet. A Gulliver utazásaiban a szerzõ Lemuel Gulliver seborvos, majd hajóskapitány bõrébe bújva, a korabeli útleírások modorában írja le hõse fantasztikus kalandjait.

Az úti kalandregény természetesen a mûfaj paródiája. A szerzõ szeretett hazájáról, a korabeli Angliáról, amely ezidõtájt a világ legfejlettebb állama, és az európai állapotokról tudósít a szatíra általa megteremtett eszközeivel. Kicsinyítõ és nagyító górcsõ alá helyezi a humanista életformákat, amikor az óriás Gulliver a törpék között, illetve a törpe Gulliver az óriások között él. A lilliputi fejedelmek és diktátorok jelenléte a történelemben azóta sem ismeretlen jelenség. A józan eszû Gulliver a kitalátor tudósok és szellemidézõ mágusok között a tudomány eredményeit gúnyolja. A leginkább aggasztó fejezet azonban az utolsó utazás, amikor az ember Gulliver az embernél emberebb nyihahák, a nemes és bölcs lovak birodalmába megy. Végsõ, epés leszámolás ez az emberi nemmel, amelyet az ocsmány jehuk személyesítenek meg. Swift saját bevallása szerint szintén jehu volt, bár tegyük hozzá, lelkiismeretes jehu, aki az emberiség sorsáért mélységesen aggódott. Joggal.
A gyermekirodalomba, Hófehérke és Csipkerózsika társaságába számûzött szatírában megjelenik egy sereg lilliputi, amint a földet megsemmisíteni képes fegyverekkel hadonászik. Aztán elõfordulnak olyan jehuk is, akik megmérgezik a forrásokat, bemocskolják a tengert, vakon pusztítják az erdõt, mezõt, termõtalajt és élettelenné sorvasztják az élõ világot. Lehetne még sorolni. Az utolsó fejezet például olyan messzire megy, hogy ha nem vetjük be a humor kényszerét, tán ki se bírjuk.

A Gulliver utazásai sokértelmû és sokoldalú alkotás, az egyetemes világirodalom ritka remekmûve. A szerzõ leleményét dicséri még, hogy képzeletbeli nyelveket alkotott az útleírásokban, különös módon fölfedezte a modern gépverset (igaz, el is veti, mint afféle badarságot), továbbá megemlíti a Mars két holdját, melyeket akkor még nem ismertek.

Tetszett a cikk? Küldd el az ismerõsõdnek!
Hozzászólok!